7 Hills District Proposal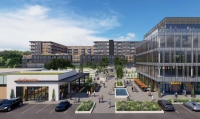 Before we get started on the topic of this month's article, I want our Ukrainian community to know that I stand with them. I send my thoughts and prayers to the brave men and woman fighting for their freedom in the Ukraine. Further I urge our national leaders to take an even stronger stance against this unacceptable aggression.
Last Month, Seven Hills LSB LLC presented a pre-application concept to a joint session of Seven Hills City Council and Planning Commission. The concept consisted of the 2 sections. a Solon-based developer Industrial Commercial Properties LLC will take the lead on the portion of the development facing Rockside Rd. The proposal for this approximate 9-acre section is 93,000 square feet of class "A" office space, about 50,000 square feet of restaurant / retail space and luxury apartments above commercial. The southern section is approximately 35-acres and will be developed by the Pulte Group. This proposal includes at least 100 townhouses and some single-family homes with values around $400,00
This mixed used development project is in the earliest of phases. Over the next several months we will work through detailed information such as economic return and traffic studies. Our planning process also includes several checkpoints designed for resident feedback. Along the way be on the look out for three major milestones a development agreement between the city and the developers, a new TIF (tax increment financing) agreement with Parma City Schools and council approval of a preliminary development plan. This is a complicated project based on the fact the land is an abandoned rock quarry and on a steep slope. Further we compete against external factors such as the economy. That said we are cautiously optimistic and stand ready and willing to work to turn this property into something the whole community can be proud of.
Tony Biasiotta
Mayor, City of Seven Hills. Ohio
Read More on Seven Hills
Volume 14, Issue 3, Posted 12:53 PM, 03.01.2022