#Meet Me In Parma - A Guide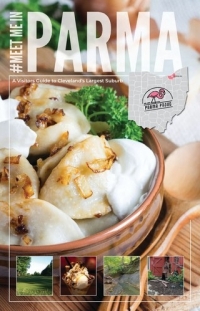 The non-profit, We Are Parma Proud, has been working hard behind the scenes to bring this project to life. The idea for a visitors guide came from Parma City Treasurer Thomas Mastroianni, during the first community meeting of We Are Parma Proud, back in June of 2019. It was one of several ideas put forth when the public was asked, "What would you like to see in our city?"
Once the vision was accomplished, a search began for a publisher. After several interviews, Lunar Cow Publishing out of Akron was chosen. Lunar Cow not only offered a print version but a Go Guide which is a mobile interactive digital product. Through your phone you can connect to the Go Guide, scroll through the pages, and click on links to the various businesses in the guide. It also uses IMap to help you locate where you want to go.
What began as a visitors guide has grown into a guide that can be used by residents and visitors alike. The guide is not only a collection of places to go in Parma and nearby, but contains a brief history of Parma, and interesting articles about our city. The printed version will be available throughout the city. Follow We Are Parma Proud on Facebook for updates. Here's your link to the free guide https://go.lunarcow.com/publication/?m=66267&l=1.
Kathryn Mabin
Board Secretary of Parma Area Fine Arts Council, Inc, or PAFAC, and Artist/Jewlery Designer, Owner Aire of Oppulence.
Read More on News
Volume 13, Issue 5, Posted 3:43 AM, 05.01.2021