Seven Hills To Acquire Radio Tower Property To Create A Nature Preserve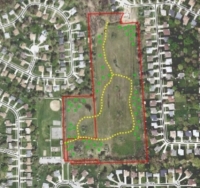 We are very excited to announce that The City of Seven Hills, together with Western Reserve Land Conservancy (WRLC), recently agreed to terms for the purchase of 20 acres of land currently owned by OSWIGI, Inc. adjacent to the City's North Park off Rockside Road. The proposed preserve area contains 20 acres of meadow habitat with forested patches and 1,900 linear feet of West Creek headwater tributaries.
As with many projects in Seven Hills we have emphasized partnerships as a way of moving ahead. Therefore, I want to acknowledge the wonderful partnerships that made this nature preserve possible for Seven Hills residents to enjoy for decades to come: Natural Resource Assistance Council (NRAC), whose scoring of our project led to us winning the Clean Ohio funds, Western Reserve Land Conservancy whose expertise in these matters was mission critical, Tom Embrescia, on behalf of OSWGI, Inc. who agreed to the sale of the property for much less than he could have received by developing the parcel, my great staff that brought it all together, and last but not least, our residents for passing issue 41. I also want to acknowledge the efforts of my Chief of Staff Kristin Saban. Her ability to work with cross functioning agencies was difference maker.
The appraised price of the proposed preserve area is $920,000. The sellers have agreed to a bargain sale of $880,000. Sixty-two percent (62%) will be provided from Clean Ohio, which includes hard costs. Seven Hills' thirty-eight percent (38%) contribution to the funds was made possible by the passage of the Issue 41 Parks and Recreation Levy.
The project safeguards natural areas and open space, as well as habitat for nine species listed as endangered, of concern, or of interest, by the State of Ohio. According to the Cuyahoga Soil and Water Conservation District, the proposed preserve will have great impact on water conservation.
Purchasing of the property meets the criteria for land use in the 2008 West Creek Watershed Action Plan and the 2015 Rockside Road Area Plan. The proposed preserve links to the adjacent Brooklyn Heights Park and is in line with the City's 2015 Strategic Plan that calls for increasing public availability and access to parks and open space.
The timing of this purchase could not have worked out better. We are developing our parks master plan and we will now be able to incorporate this potential 20-acre nature preserve into that plan. Included in the project is the planting of 50 trees to increase the City's tree canopy, as well as building an ADA-accessible trail.
This acquisition is subject to Council approval. I am confident in its passage, as this is exactly what the majority of the residents in this neighborhood desire. Adding such an amenity to our City at such a reasonable purchase price is an incredible value for our community.
To wrap things up I want to share with you a couple of quotes from our partners:
"The Land Conservancy is ecstatic to work in partnership with the City of Seven Hills and the seller with this green space acquisition project. Enhancing access to outdoor amenities is critical to the health and well-being of our communities." - Isaac Robb, Vice President of Planning and Urban Projects at Western Reserve Land Conservancy.
"We are very pleased that we have been able to work with the City of Seven Hills and Western Reserve Land Conservancy to structure a transaction for a 20-acre park off of Rockside Road that will benefit the citizens of Seven Hills and the surrounding communities for many years to come. The city's Mayor, Tony Biasiotta, had the suggestion that we work in collaboration with the Land Conservancy to provide this land as a park. We loved the idea and are very proud, as fellow Clevelanders, that this idea will become reality." – Tom Embrescia, Chairman, OSWGI Corporation.
Tony Biasiotta
Mayor, City of Seven Hills. Ohio
Read More on Seven Hills
Volume 13, Issue 4, Posted 11:58 AM, 04.02.2021