Parma Brew & Trash Crawl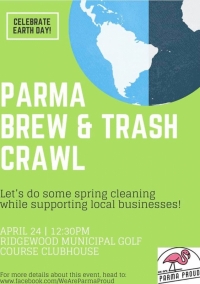 In celebration of Earth Day meet up with your fellow Parma residents on Saturday, April 24th, to Spring Clean Parma, while stopping off to rest and supporting local establishments for a cold brew or other refreshment (not included).
Participants will gather at the Ridgewood Municipal Golf Course Clubhouse at 12:30 pm. The group will proceed south on Ridgewood Drive at 1:00 pm, with stops at Bleacher's Sports Grill, Fast Eddie's to the final destination of Legend's Sports Bar and Grill at 4:30 pm. Meet your neighbors, support local businesses, and clean up your city. Door prizes, loads of fun, and supplies will be provided. Register today at EventBrite or go to Facebook, We Are Parma Proud. Hosted by We Are Parma Proud, a 501(c)3 Parma non-profit.
Unable to attend and still want to do your part? After being cooped up all winter long, enjoy the Spring weather, get outdoors, bring family and friends, take a stroll, bring a bag, glove up, and pick up the trash littering your neighborhood. The fresh air, the sunshine, the exercise, and taking pride in our community will put a smile on your face.
Kathryn Mabin
Board Secretary of Parma Area Fine Arts Council, Inc, or PAFAC, and Artist/Jewlery Designer, Owner Aire of Oppulence.
Read More on News
Volume 13, Issue 4, Posted 12:00 PM, 04.02.2021