Fresh Produce For Households With Limited Incomes In 2021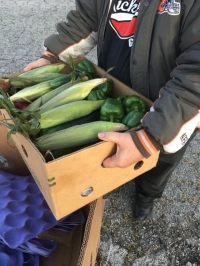 Baba's Yard, a 501(c)3 nonprofit organization, gave away 150 tons of fresh produce in 2019 and 2020, and is organizing a collaboration of community partners for a third season. The mission of Baba's Yard is to reduce epidemic diseases, by increasing fresh produce consumption. Consuming a variety of plant based nutrients is essential to maintaining healthy immunity, and is effective in preventing and managing diseases such as hypertension, heart disease, diabetes, cancer and more.
Fresh fruits and vegetables are available to any households with limited income, at no charge to recipients. There are no preregistration or residence requirements. Clients are asked to not arrive before the distributions begin at 3:30 pm and to remain in their vehicles. Social distancing and mask use are required. No clients are admitted after 5:30.
1st Tuesdays are at Parma-Snow Library, 2121 Snow, Parma 44134.
4th Tuesdays are at St. Elias, 8023 Memphis, Brooklyn 44144.
Beyond Cuyahoga County Library and Saint Elias Melkite Catholic Church, Baba's Yard is honored to work in alliance with the cities of Parma and Brooklyn, especially Parma Police Auxiliary and the Brooklyn P.D., who graciously assist in our traffic management. Elected officials and city employees from both towns are dependable volunteers at these twice monthly events. Some other Baba's Yard volunteers drive a distance from their northeastern Ohio homes to serve our clients from the southwest suburbs. Baba's Yard is especially thankful for our partnership with Greater Cleveland Food Bank.
Please follow Baba's Yard on Facebook, Instagram and Twitter
For more info please email: babasyard@gmail.com

John Visnauskas
Baba's Yard Executive Director, founder of a number of local charitable organizations, lives in his childhood Parma home. Proud 1976 Parma High School graduate.
Read More on News
Volume 13, Issue 4, Posted 12:00 PM, 04.02.2021