The President's Corner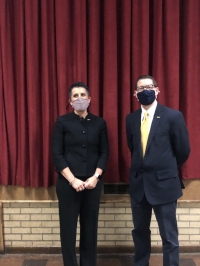 This month I want to introduce you to one of Parma's own who recently joined my colleagues and me on Parma City Council. Recently, Parma lost a fine leader, Councilman Brian Brochetti, who decided to resign his position on city council to spend more time with his beautiful, growing family. Happily, his replacement is a woman I have known for years who is approachable, positive, and full of energy with a work ethic to match. May I introduce you to Kammy Coyle Shuman – Parma's new ward seven councilwoman.
Councilwoman Coyle Shuman is one of eight children who grew up on Hollywood Drive. She loves the town she grew up and has raised a family in. In 2000, she married Tony Shuman at St. Charles Borromeo Church and they have two children. A graduate of Padua Franciscan High School, she earned a bachelor's degree in accounting from Baldwin Wallace University. She has been active in many organizations, including her children's grade school, St. Columbkille, and high school, Padua. Her family owned Encompass the World Travel for many years. She taught fitness courses at Valley Forge, Tri-C, the Seven Hills Recreation Center, and many yoga studios. From 2013 to 2019, she was a recruiter at her alma mater, Padua. In 2020, she began working at Oak Tree Wealth Partners and is currently the operations manager. "I am extremely proud of my upbringing in Parma and plan to represent the constituents in ward seven with pride," our new councilwoman stated.
"I love Parma for the many cultures it represents. I love that we have different cities, within the city. I love that we have churches, of all denominations, on each corner. I have so many memories at so many locations in the city. I grew up skating on the ice at Forestwood Ice Rink, I remember seeing the Nutcrackers at Parmatown Mall, I made my first communion at St. Charles Church, and connected with the man who would become my husband at the Parma Café. All in all, this city raised me. It formed me into the strong woman I am," she pointed out.
"My goal as councilwoman is to actively participate in the betterment of our community. I want to work for the good of all. It is important that we come together as a city and make decisions that will make us stronger. I will respect and respond to the needs of the constituents in my ward," Councilwoman Coyle Shuman explained.
She continued, "I would love the residents to know that my decisions will be made based on what is right. I like to get to know people, read them, understand what is important to them and advocate on their behalf, based on this. I will listen and discuss issues with them, and try my best to stay grounded in my beliefs while working on behalf of them."
Councilwoman Coyle Shuman will be serving on the following committees of city council: finance, public housing, appointment scanning, public safety, and public service.
Let me be among the first to welcome our new ward seven councilwoman Kammy Coyle Shuman. I very much look forward to working with her. Councilwoman Coyle Shuman may be reached at 440-885-8091 or kshuman@cityofparma-oh.gov.

Sean Brennan
Parma City Council President Sean Brennan
Read More on News
Volume 13, Issue 3, Posted 11:42 AM, 03.01.2021