Parma Art Scene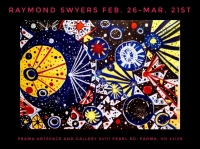 Prama Artspace Gallery & Boutique is honored to have the works of Raymond Swyers, a modern abstract artist, on exhibit this month. The exhibit has a "fluid energy", is very colorful and has a celestial feeling. The show opened on February 26th and runs through March 21st. Raymond is a Cleveland Heights native, currently living in New York with French Canadian roots. He attended the Cleveland Institute of Art and graduated from Cleveland State University in 1996 with a B.F.A. He is contemplating a move to Europe where there is a growing market for his work. Please wear your mask, if you forget yours, they are available to purchase on site. Social distance please while in the gallery. Private appointments are also available upon request. Prama is located at 5411 Pearl Rd. in Parma. Follow Prama on Facebook and Instagram, or view the website www.pramaartspace.com.
Join FREE LIVE STREAM on Facebook, broadcasting at Prama Artspace Gallery & Boutique a virtual celebration of the record release of "And You Will Know Us By Our Avatar" by Duo Decibel System, on March 6th. View on Duo Decibel System's page. They are a newly formed group with Cleveland's Miss Melvis and John Scully. The sound is "Equal parts analog noise and electric ambiance layered over a jazz, punk and pop base conjures a post-rock elixir for broken hearts and ruffled minds."
FREE VIRTUAL OPENING, "The Female Soul", on March 6th at Prama Artspace Gallery & Boutique's web page, www.pramaartspace.com, in support of Women's History Month.
Coming soon, James Burnett, Holy Name High School Grad, Cleveland Institute of Art Grad, Abstract Artist will be on display March 26, 2021 at Prama Artspace Gallery & Boutique.
Lena Simovic, of Lena Atomika Photography is on exhibit at the SPACES' Season Pass Members' show, located at 2900 Detroit Rd., through March 19th. She also has pieces available for purchase at the BAYarts store in Bay Village.
Call For Entries: Cleveland State University (The Cleveland Memory Project) and Cleveland Photographic Workshop are collaborating to form a collection and archive of documentary photographs of North East Ohio. They are looking for submissions of photos of person, place, thing or event, not manipulated photos, from daily life of significance to the photographer. For more information email to csucpfproject@gmail.com. Free to submit! Deadline is December 31, 2021.
Photo Submissions Wanted: Cleveland Photo Fest's Photothon 2021 has opened entries for three exhibits. Sponsored by the Bostwick Design Art Initiative. For Women Only, Dear Diary: Show us your secrets. An opportunity to delve into your imagination and express yourself. Furtography, Another Show for Dogs. Show us your noblest, most elegant, memorable, humorous and lasting images. Deja Nude, Not another nude show! An exhibition of upbeat, enlightened and just plain fun nudity. Go to www.clevelandphotofest.org to submit or for further information. Deadline for entries is March 31, 2021.
Anthony DeMarco, is currently working on the Parma Senior High Alumni Tradition's 100th Anniversary issue which commemorates the 1921 opening of Parma High. He is a Parma High Alumni himself, and taught classes in enameling, jewelry, crafts, drawing, painting, humanities and photography at Parma High for 31 years.
Laura D'Alessandro, co-curator Prama Gallery, founder and Director of Cleveland Photo Fest, has photos in the 31st edition of Hand Magazine. She is also on exhibit at the SPACES Seasons Pass Member Exhibit, 2900 Detroit Rd., which runs through March 19th. You'll also find her work "The Female Soul" on March 6th at Prama Artspace Gallery & Boutique's virtual opening.
Kathryn Mabin
Board Secretary of Parma Area Fine Arts Council, Inc, or PAFAC, and Artist/Jewlery Designer, Owner Aire of Oppulence.
Read More on News
Volume 13, Issue 3, Posted 11:43 AM, 03.01.2021