Tax Connect Online Makes Filing City Taxes Easy And Safe For Parma Residents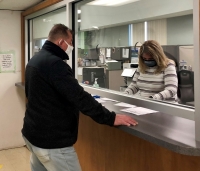 The City of Parma Tax Department is offering online filing through Tax Connect Online, which will make filing city taxes for Parma residents easy and safe. The online service allows residents to see what payments and credits they have for the current year or past years. Parma residents are able to prepare their taxes, e-file and, if needed, pay their taxes online when they visit www.cityofparma-oh.gov, go to the Tax Department page and then click on the Tax Connect Online link in the right blue column under "Quick Links."
For Parma residents who prefer to have their taxes done in person at Parma City Hall, they are required to wear masks and adhere to social distancing guidelines in the building. The Tax Department staff has placed X's on the floor to help visitors with social distancing when standing in line. Tax Department staff will prepare city taxes for free in person until Friday, Feb. 26. After that date, Parma residents must drop off or mail their tax information to the City of Parma, Tax Department, 6611 Ridge Road, Parma, Ohio 44129. "We created this deadline so residents will avoid standing in long lines. We want to keep everyone safe from the spread of coronavirus," said Treasurer Tom Mastroianni. "Free of charge, our staff will prepare residents' city taxes that were dropped off or mailed to us and then mail the completed forms to the residents. We will let the residents know by mail if they owe anything."
Mastroianni encourages residents not to wait until the last minute. "Last year, the deadline was extended because of the sudden shutdown. That won't happen this year," Mastroianni warned. "To avoid stress, I recommend residents get their taxes turned in before the deadline, which is Thursday, April 15."
For more information, call the Tax Department at 440-885-8045 or email taxoffice@cityofparma-oh.gov.
Carolyn Kovach
Carolyn J. Kovach
Director of Communications, City of Parma, Mayor's Office
Read More on News
Volume 13, Issue 2, Posted 8:53 AM, 02.01.2021