Rumpke Begins Its Garbage Service In Parma; Republic Removes Its Carts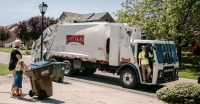 This month, Rumpke began collecting trash and recycled items from Parma residents while Republic Services, which formerly provided the service, continued removing its carts from the city.
Republic has asked residents to leave their empty Republic carts on their curbs every day until its workers remove them. Due to the large volume of carts and the size of the city, Republic reported it could take up to four weeks for its workers to remove all its carts, a project that began Jan. 25.
As of Feb. 1, Rumpke began collecting rubbish in Parma. Under the new five-year service agreement, Rumpke will provide weekly trash, recycling and bulk-waste collection for residents, including the use of Rumpke trash and recycling carts. Residents will not be required to separate yard waste and will have weekly bulk pickup — a convenience residents are pleased to now have. Rumpke will collect bulk waste items such as appliances, sofas, chairs, mattresses, box springs and other large items. For sanitary reasons, residents are required to wrap upholstered furniture and mattresses in sealable plastic.
If Parma residents have questions about their new service, they can call Rumpke at 1-800-828-8171 or visit www.rumpke.com.
Carolyn Kovach
Carolyn J. Kovach
Director of Communications, City of Parma, Mayor's Office
Read More on News
Volume 13, Issue 2, Posted 8:53 AM, 02.01.2021