Parma Rec Flips Order Of The Soccer Season But Plans For High School Spring Season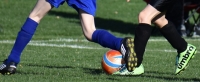 The pandemic forced sweeping changes last year to school sports and community recreation programs and continues to challenge coaches and recreation directors as they grapple with how to keep athletes active and safe.
To provide a full soccer season, the City of Parma Recreation Department decided to start the 2021-22 soccer season for Tikes -N- Spikes and Divisions 1 through 5 (preschool through eighth grade) in fall 2021 and complete the season in spring 2022. Registration for fall soccer will run May 24 to June 13, 2021.
Historically, Parma's recreational soccer season starts in the spring, but the 2021-22 season is flipping the order. "This is the best time to permanently transition to the new format. Most communities and soccer organizations start their seasons in the fall and end in the spring," said Mickey Vittardi, director of recreation.
Only co-ed high school Divisions 6 and 7, which includes freshmen, sophomores, juniors and seniors, will play this spring. Registration runs Feb. 15 to Feb. 28. Games will be played on Tuesday and Thursday evenings.
"We want to avoid the high school players losing two years of participation, which is why we are providing a spring season for this age group," explained Dave Ehlert, assistant director of recreation.
Carolyn Kovach
Carolyn J. Kovach
Director of Communications, City of Parma, Mayor's Office
Read More on News
Volume 13, Issue 2, Posted 8:53 AM, 02.01.2021