Seven Hills Spotlight Businesses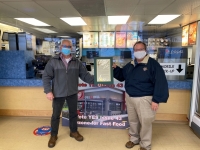 This past year is certainly one that will not be soon forgotten. The obstacles and hurdles of 2020 have been well documented. Despite this, it has been this administration's desire and goal to continue to move our city forward. Indeed, it has been our continued purpose to foster an environment in which our City continues to grow and evolve in the 21st century. While we will continue to meet the challenges 2020 has presented head on, we also believe it is just as critical to embrace success and celebrate accomplishments. One initiative that embodies this is Mayor Biasiotta's Business of the Month Program, realized early on within the new Administration. While it is unquestionably the residents that form the foundation of any city, the businesses within the community provide an avenue for cities to move forward. Therefore, it was an early priority within this Administration to make this idea into a reality.
Acumen Solutions, located at 5700 Lombardo Center was honored in March of 2020 as the first Business of the Month, followed by Si Senor located at 7729 Broadview Rd., Edward Jones located at 7305 Broadview Rd., Seven Hills Tavern located at 7265 Broadview Rd., Georges' Deli located at 3001 E Ridgewood Dr., Marge Walter Caterers located at 7589 Broadview Rd., Broadview's 20th Century Barber Shop II located at 5150 Broadview Rd., and Dairy Queen located at 7475 Broadview Rd. to date. Each one of these Seven Hills businesses is dedicated to making our community a better place by giving back to our community and providing superior customer service or products.
Seven Hills has always been a place that families want to call home. Today, it is becoming quite clear that the businesses within our border feel the same way. They have moved to our City for a better business opportunity and are working with our residents to see our city thrive.
The Business of the Month is more than a simple initiative. These businesses in our city are more than brick and mortar storefronts. They are more than just walls and window dressings. They are our friends and neighbors. The artwork and decorations that adorn the walls often tell a personal or family story. It is quite common that when we frequent these stores that we are welcomed by name and are greeted with warm friendly smiles (albeit, often from under a mask). The owners and employees mean a great deal to the city. They are part of the Seven Hills Family.
This program is a way for this Administration, and by extension our entire city, to demonstrate our appreciation for the businesses that make up our community. We look forward to 2021 and the opportunity it affords us to acknowledge even more establishments. There are many reasons to be excited about next year. Our city's growth is fluid and remains impressive. It is our pledge to continue to show our appreciation. Please remember these fine businesses for your holiday needs this season.
Kristin Saban
Kristin Saban
Chief of Staff
City of Seven Hills
Read More on Seven Hills
Volume 12, Issue 12, Posted 11:20 AM, 12.01.2020