Eat, Shop, Play - Pearl Road Businesses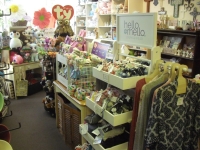 Small businesses have an uphill battle to flourish with the challenges in front of them. First, Covid and ongoing street projects. Pearl Road in Parma Heights is lined with shops that offer gifts you can't buy anywhere else. Explore storefront shops where merchants welcome you with "indie" finds and personalized service. An added benefit is not getting stampeded by a crowd of shoppers lunging for a $300 plasma TV.
So this year, I'm going to Eat, Shop, and Play Pearl Road. First stop...
Samosky's Home Bakery, 6379 Pearl Road. We could all use a little extra sweetness in our lives right now. Thankfully, this bakery always puts a smile on my face with their cupcakes and kolaches.
Andy's Hardware, 6658 Pearl Road. (440) 885-0118 Andy's Hardware gives us the kind of knowledgeable help we can trust when we most need it and they've been helping neighbors with their home projects for generations.
Village Cards & Gifts 6643 Pearl Road (440) 884-2331 is a cheerful, trendy, family-owned shop. This is where to go for a unique gift for the hard-to-shop-for person on your list. From clothes to accessories to jewelry, Ty products and inspirational items, you can find a ton here. I especially love its selection of humorous gifts, like greeting cards and silly socks by Two Left Feet.
Rogue's Den, 6277 Pearl Road--has classic board games, party games and role-playing games for people of all ages.
Yorktown Lanes, 6218 Pearl Rd (440) 886-5300 You don't have to belong to a league to enjoy a night of bowling with friends here. And it's a great way to strike up new ways to have a good time with your family and friends.
Quality of life in a community like Parma Heights is closely tied to the local economy, Pledge to buy all your holiday gifts from local shops. Just as we acknowledge the importance of voting in this election, remember that we vote every day when we pull out our wallets. Go out of your way to support the small businesses that make up the fabric of this city. Follow your favorite small businesses on social media and re-post their messages. Even if the news they're sharing may be irrelevant to you, it may be relevant to someone in your circle. There's no better time to get out of our comfort zones and explore new shops that we may have otherwise ignored. Eat, Shop, and Play Pearl Road and let them know they matter to you!
Emery Pinter
Worked in marketing research, marketing, was a Librarian and Bookstore Manager.
Read More on Opinion
Volume 12, Issue 11, Posted 11:58 PM, 11.01.2020