Parma Hospital Health Care Foundation Provides Critical Support In Fight Against Coronavirus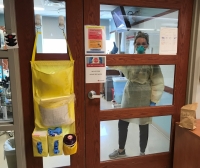 UH Parma Medical Center received a $500,000 community challenge grant from Parma Hospital Health Care Foundation to support the hospital's response to the COVID-19 pandemic. The funds will help support the unanticipated costs of the health crisis, including extensive patient care, medical supplies and research as well as providing for the protection, wellness and resilience of UH Parma caregivers.
"UH Parma Medical Center understands the importance of community and ensures our patients have quality, compassionate care close to home," said Angelo Pimpas, Board Chair, Parma Hospital Health Care Foundation. "In return, we hope our communities can pull together and help alleviate the cost and of this crisis while also providing for the impact it's having in other clinical areas."
The gift from Parma Hospital Health Care Foundation is one of four, $500,000 challenge grants awarded by area hospital foundations to help sustain UH communities during the ongoing COVID-19 health crisis. Other grant-makers include Elyria Medical Center Foundation, Portage Medical Center Foundation and Samaritan Hospital Foundation. Each grant will support the Community Response Fund at that foundation's local UH medical center with the hope of inspiring additional local giving.
"University Hospitals has a long-standing commitment to the health and well-being of our community, a promise that we extended in recent years to more patients than ever with the health system's regional expansion," said UH Chief Operating Officer, Eric Beck, DO, MPH. "Today, that promise is more important than ever and we are grateful to have wide-spread support throughout Northeast Ohio and beyond as we face this pandemic together."
Community members can join the foundation in supporting UH Parma Medical Center and its caregivers by making at gift at UHGiving.org/Parma.
CJ Sheppard
Senior Communications Strategist, University Hospitals Parma Medical Center
Read More on Parma General Hospital
Volume 12, Issue 4, Posted 12:52 PM, 05.01.2020