State Lawmakers Propose Relief Bills To Help Ohioans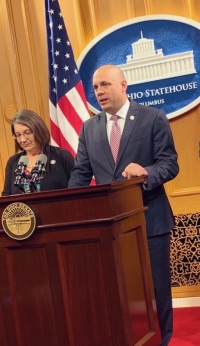 Since the start of the Coronavirus crisis here in the United States, Ohio's state legislators have been hard at work crafting solutions to problems created by the public health crisis caused by the Coronavirus pandemic. As the number of infected patients have grown, members of the Ohio House Democratic Caucus, including Parma's Rep. Jeff Crossman, have been proposing legislation to help every day Ohioans through this crisis. Legislators plan on taking up this legislation when the Ohio General Assembly returns to Columbus.
First on the agenda is to complete the March 17th primary election which was suspended after the Ohio's Director of Health ordered the in-person polling locations closed the day prior to the election. While the Ohio Secretary of State has recommended in-person voting resume on June 2nd, legislators have instead proposed switching to mail voting only and extending that deadline through April 28th which would allow for each County board of election to complete and finalize the election. According to Rep. Crossman, "there's simply no guarantee that June 2nd will be any safer for in-person voting than March 17th was." While mail-only balloting would be unusual here in Ohio, other states vote only by mail and have successfully demonstrated how this process could work.
On March 23rd, Rep. Crossman introduced several pieces of legislation to address financial and tax related concerns, including extending the state tax filing date from April 15th to July 15th to complement what the Federal Government has already done. Rep. Crossman also introduced legislation to increase local government funding to support cities whose first responders are dealing with this crisis on the front lines and also filed legislation to allow for and encourage retired police, fire, and EMT workers to return to service during a state of emergency. Rep. Crossman also filed legislation to address concerns over "price gouging" customers for goods, services and dwellings during this public health epidemic and filed legislation to temporarily delay foreclosure and eviction cases so that persons can remain safely at home throughout this crisis. Finally, Rep. Crossman has co-sponsored legislation to cancel state required testing in schools since students are not in classrooms for what may be the remainder of the school year. This is a sample of legislation that has been sponsored thusfar, and the Ohio House intends to take on substantially more issues as well, including expanding the state's unemployment insurance fund to include people that may not have been previously eligible.
In short, state legislators have been extremely busy crafting solutions to the apparent and anticipated issues that have resulted from this global pandemic. If you need assistance in obtaining unemployment insurance or any other service from the state of Ohio, please do not hesitate to contact Rep. Crossman's office directly at (614) 466-3485.
Read More on Opinion
Volume 12, Issue 4, Posted 2:47 PM, 04.01.2020