Rep. Crossman Introduces Bill To Give Local Citizens Voice In Location Of Residential Treatment Facilities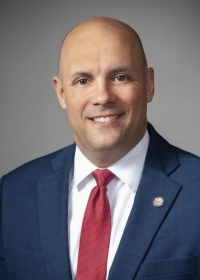 Bill strengthens home rule in Ohio communities. For most people, their house is their single largest investment. Beyond that, your house is a home where you go to find respite at the end of each day. You want your family to feel safe and secure in their home each day. As a City Councilman, Rep. Crossman heard from residents that had their daily lives disrupted when treatment centers opened in their residential neighborhood without any local input. Rep. Crossman aims to change that with House Bill 505 filed on February 12th.
HB 505 filed jointly with Rep. John Becker (R-Union Township)from Clermont County is bipartisan legislation that strengthens home rule; by restoring local communities' ability to approve zoning for residential treatment facilities, commonly known as "halfway houses." Under current Ohio law, treatment facilities that intend to house five or fewer residents do not require any local input before opening, and are frequently opened in areas that upset local neighbors who have no say whether the facility is appropriate for their neighborhood—this is an occurring issue across the state of Ohio.
"At the end of the day, we're a home rule state and this bill strengthens our commitment to letting local residents decide what's best for their communities as we continue to look for ways to treat addiction and combat our state's opioid crisis," said Rep. Crossman. "The current law prohibits local input and we want to give local residents a voice in the matter." Rep. Becker has heard from constituents in his community, as well, who demanded more say in where these facilities are located. "No one questions the important work being done to help rehabilitate people across Ohio," Becker said. "But there needs to be some common sense about where halfway houses can operate. We need to give residents a say before a halfway house opens in their neighborhood."
HB 505 would standardize the zoning process, and give local residents the opportunity to weigh in on all proposed changes; something Rep. Crossman says is critical as the state continues to look for ways to combat its near worst-in-the-nation opioid crisis. "We need to work as a community to solve this terrible opioid crisis but to do so, we all need a voice."
Now that this legislation has been introduced, it has been referred to the Ohio House's Health committee which will hear from interested parties, and decide whether to advance the bill to the floor of the Ohio House.
Read More on Opinion
Volume 12, Issue 3, Posted 11:18 PM, 03.01.2020