State Rep. Jeffrey Crossman Asks You To Support This Years Census.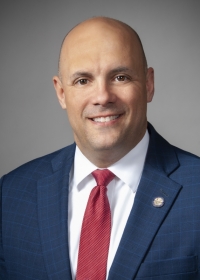 Welcome to 2020-- a new decade begins and, with that, the U.S. Constitution requires the government conduct another count of all of its citizens. The efforts to complete this extremely important count are now underway and each time the Census occurs there are always questions. We answer the most common questions related to the count below and we strongly encourage everyone to support the Census this year so we can maximize the investment we receive in our community!
What You Need to know what is the Census?
The Census is conducted every ten years pursuant to Article 1, section 2 of the U.S. Constitution. The Census measures population demographics across the country and every household is required to respond. Respondents will answer based on the makeup of their household as of April 1st, 2020 (children that split time between parental households are counted in the household where they are residing on that date). After the count is completed, statehouse and congressional districts will be re-drawn and financial resources will be distributed based on population. The federal government estimates that it will distribute over $286 billion to states through approximately 300 federal agencies. Therefore, an accurate count here is essential to ensure Ohioans receive a fair distribution of these critical federal resources.
How do you respond?
The census questionnaire will be sent via U.S. Mail starting in March 2020, complete with notices and instructions and details on how to respond. Respondents will be able to choose whether to respond by phone, mail, or online. If a household does not re-respond through any of these three methods voluntarily, a census worker will sent to your household to collect the needed responses.
What will the Census ask?
The census survey is short and will take approximately ten minutes to complete and will include questions such as:
How many people are living or staying at your home on April 1st, 2020?
Is the home owned or rented?
What is the sex of each person in the home?
What are the ages of each person in the home?
What is the race of each person in the home?
Is anyone in the home Hispanic, Latino, or of Spanish origin?
What are the relationships between the people living in the home?
The census will NOT ask you for:
Social Security numbers
Money/donations
Anything on behalf of a political party
Bank/credit card numbers
Why is this important?
As noted above, the Census data helps determine how millions of dollars in federal money is distributed to schools, hospitals, roads, public works, and programs such as the National School Lunch Program, special education, and "food stamp" programs like SNAP and CHIP. It also determines the number of seats in the U.S House of Representatives given to each state, and how new district lines will be drawn in federal, state, and local elections.
What happens to my information? Will it be shared?
The Census data cannot be shared with any other agency. In fact, it is illegal for anyone's personal census data to be shared to anyone, including law enforcement agencies like the FBI or ICE. Doing so can result in a fine up to $250,000, five years in prison, or both.
If you have any further questions regarding the Census please to reach out to my office at (614) 466-3485 and we will be happy to assist.
Read More on Opinion
Volume 12, Issue 2, Posted 9:30 PM, 02.02.2020