Protect Your Heart, Manage Diabetes And Prevent Falls With Advice From UH Parma Medical Center Experts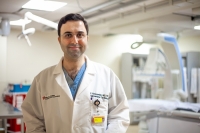 Heart Disease & Calcium Scoring
Thursday, February 13 | 5 p.m.
Farshad Forouzandeh, MD, PhD, FACC
Learn about coronary calcium scoring and
its advantage in early diagnosis of coronary
artery disease and schedule a calcium
scoring test for a future date. UH Parma
Medical Center Auditorium, 7007 Powers
Blvd. Light refreshments provided.
Diabetes Management Group
Wednesday, February 19
4:30 – 5:30 p.m.
Learn how diet affects diabetes. You will
be able to schedule a private consultation
with a dietitian. UH Parma Medical Center
Cafeteria, 7007 Powers Blvd. Physician
referral required. The Program may be
billable through your insurance.
Balance and Fall Prevention
Tuesday, February 25 | 5 p.m
Therese Lord | Doctor of Physical Therapy
UH Parma Medical Center
Hear about prevention and treatment and
learn a few basic exercises to help maintain
balance and avoid falls.
CJ Sheppard
Senior Communications Strategist, University Hospitals Parma Medical Center
Read More on Parma General Hospital
Volume 12, Issue 2, Posted 9:30 PM, 02.02.2020