How's Your Sleep? Learn About The Sleep Center At UH Parma Medical Center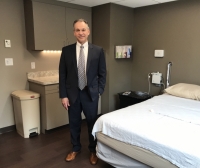 More than 70 million Americans suffer from sleep problems. If you have trouble falling asleep or staying asleep, or are fatigued during the day, a sleep study at UH Parma Medical Center's Sleep Center can help you determine why. Find out if you suffer from a sleep disorder and learn treatment options.
Neurologist John Andrefsky, MD, Medical Director of UH Parma's Sleep Center, presents "How's Your Sleep?" on Thursday, Nov. 14 from 6-7:30 p.m. in the Auditorum at UH Parma. Register by calling 440-743-4932.
The Sleep Center that opened last year at UH Parma Medical Center is modern and comfortable, with the patient experience paramount in its design. Located on the ground floor of Medical Arts Center 4 in a newly renovated suite, it is comprised of spacious private bedrooms with queen-sized beds, recliners and flat-screen LCD televisions with DVD players. The board-registered technician who monitors the study speaks to patients by intercom to maintain privacy. In the morning before leaving, patients have access to a walk-in shower to prepare for their day.
CJ Sheppard
Senior Communications Strategist, University Hospitals Parma Medical Center
Read More on Parma General Hospital
Volume 11, Issue 11, Posted 8:50 AM, 11.01.2019