UH Parma Medical Center Announces Plans To Consolidate Delivery And Expand Women's And Children's Services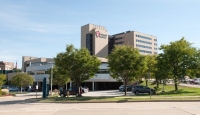 University Hospitals Parma Medical Center is shifting its focus from delivering babies to enhancing services that care for women and children throughout their lives. The hospital is expanding women's services and UH Rainbow pediatric services as it transitions labor and delivery to other UH locations.
The hospital that was built in response to the exploding birth rate in the southwest suburbs during the Baby Boom of the early 1960s saw only 262 births last year and is on track for fewer than 200 this year.
"A couple hundred births per year is not enough to sustain operations and continue the high standards of care we demand of ourselves and that our patients deserve," says Brian Monter, President of UH Parma Medical Center.
The consolidation of delivery services follows the regional trend of a steadily dropping birth rate in Cuyahoga County. UH patients will still have many options for childbirth services, including UH MacDonald Women's Hospital in Cleveland, UH St. John Medical Center in Westlake, UH Elyria Medical Center in Elyria, and Southwest General Health Center in Middleburg Heights.
While deliveries at UH Parma will cease by year's end, women will still be able to get their prenatal and postpartum care locally, including consultation services for high-risk pregnancies and childbirth education.
The community also can look forward to expanded care close to home for women of all ages, including services for urogynecology, breast health, cardiovascular care and gastroenterology. UH Parma is already home to an array of UH Rainbow primary and specialty care services for children.
This integration of outpatient services will provide a convenient central location that enhances wellness care. UH Parma is developing the expanded service plans collaboratively with input from local clinicians and stakeholders.
The hospital will work with affected employees to explore other opportunities within the health system.
These changes come during a time of significant expansion at UH Parma Medical Center, most prominently a $27.5 million complete renovation and expansion of surgery, including a new addition to the front of the hospital. As part of the UH health system, UH Parma Medical Center has added new physicians in primary care and many specialties, and initiated a residency program in internal medicine. UH also has extended the expertise in multiple clinical areas, including UH Harrington Heart & Vascular Institute, UH Seidman Cancer Center, UH Neurological Institute and UH Eye Institute.
Over the past two years, UH Parma also has received Five Stars for quality, safety and patient experience from the Centers for Medicare & Medicaid Services for two consecutive years and an "A" safety grade this spring from the Leapfrog Group, a national nonprofit group committed to quality health care.
"UH Parma Medical Center is able to address the changing needs of our community, and continue to meet the needs of all patients, through being part of the comprehensive UH health system," says Monter. "We are preserving access to high-quality child birthing nearby, while investing in the clinical capabilities and services that Parma needs most.
"We look forward to dedicating the best available resources to reshape how support is provided to patients across the UH continuum of care."
CJ Sheppard
Senior Communications Strategist, University Hospitals Parma Medical Center
Read More on Parma General Hospital
Volume 11, Issue 9, Posted 2:14 PM, 09.02.2019