Longtime Parma Nurse Named Chief Nursing Officer At UH Parma Medical Center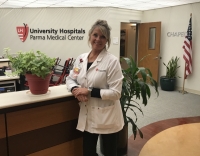 Kim Monaco, BSN, RN, a longtime nursing leader at University Hospitals Parma Medical Center, has been named its new Chief Nursing Officer.
Monaco has managed Surgical Services and the Emergency Department, separately and simultaneously, over the past 15 years. She was twice tapped to serve as interim Chief Nursing Officer. In the 13 years before transitioning to management in 2004, Monaco worked as a nurse in multiple areas of the hospital, including the Intensive Care Unit, Home Health Care, Emergency Department and Surgery.
"A 28-year member of the UH Parma Medical Center family, Kim has proven her versatility, dedication and responsive leadership by running multiple critical care departments and being closely involved in daily operations," said President Brian Monter. "She has the confidence and respect of our nurses and the knowledge to step right into this important role."
Monaco has a bachelor of science in nursing from Indiana Wesleyan University and completed the UH Leadership Advancement Program. A resident of Parma since she was 6 months old, Kim is active in St. Matthias Parish and has volunteered for many years with the Parma Hospital Health Care Foundation. The married mother of three has four grandchildren and another one on the way.
"Our nurses are at the forefront of our patients' care, safety and satisfaction, which leads to their experience at UH Parma Medical Center," Monaco said. "I am honored and humbled to have been given this opportunity, recognizing that together with our elite executive team, providers, nurse managers and our ancillary leaders we can exceed our patients' expectations. I am very excited for what is to come as we do our part to carry out the mission, vision and values of the University Hospitals health system here in the communities that we serve."
CJ Sheppard
Senior Communications Strategist, University Hospitals Parma Medical Center
Read More on Parma General Hospital
Volume 11, Issue 9, Posted 2:14 PM, 09.02.2019