UH Parma Medical Center Granted Provisional Adult Level III Trauma Status By The State Of Ohio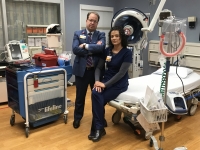 Following a consultative visit from the American College of Surgeons in April, the Ohio Department of Public Safety, Division of EMS has confirmed that UH Parma Medical Center has met the requirements to operate as a Level III Adult Trauma Center under provisional designation, effective immediately.
"This verification ensures that patients with traumatic injuries of minor to moderate acuity can be treated at our hospital, avoiding transfer to another hospital," said David Linz, MD, Trauma Medical Director, UH Parma Medical Center. "Studies have shown that 85 percent of injured patients could be treated at their local community hospital, as long as they are certified for trauma care. This provisional designation raises the level of care for our community. We have four trained trauma surgeons on staff prepared to respond to their needs."
Cases are considered trauma when they pose a significant risk to loss of life or limb, or permanent disfigurement or disability. A Level III Trauma Center must:
Have continuous general surgical coverage

Be capable of managing the initial care of the majority of injured patients

Have transfer agreements with Level I and Level II trauma hospitals for patients that exceed its patient care resources

Be involved in prevention and have an active outreach program for its referring communities

Conduct education programs for nurses, physicians and allied health care workers involved with trauma
Patients with more severe injuries can be stabilized before transfer to Level I adult and pediatric trauma centers at UH Cleveland Medical Center or UH Rainbow Babies & Children's Hospital, respectively. Across the UH system, Level III trauma centers are in operation at UH Geauga Medical Center in Chardon, UH St. John Medical Center in Westlake, Southwest General Health Center in Middleburg Heights and UH Portage Medical Center in Ravenna.
UH, along with the Cleveland Clinic, MetroHealth Medical Center and public representatives, is a member of the Northern Ohio Trauma System, which coordinates trauma care across Cuyahoga County and the surrounding seven-county region.
"The risk of mortality for traumatically injured patients is decreased when they present to a trauma center," says Kristen Tarase, MSN, RN, UH Parma Trauma Coordinator. "We are pleased that this provisional status allows us to provide members of our community with a higher level of care."
Following provisional status, the State of Ohio will determine the official status within the next 18 months.
CJ Sheppard
Senior Communications Strategist, University Hospitals Parma Medical Center
Read More on Parma General Hospital
Volume 11, Issue 7, Posted 10:28 AM, 07.02.2019