UH Parma Medical Centers Earns "A" Grade In National Patient Safety Experts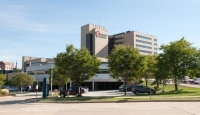 University Hospitals Parma Medical Center was awarded an 'A' from The Leapfrog Group's spring 2019 Leapfrog Hospital Safety Grade. The designation recognizes UH Parma Medical Center's efforts in protecting patients from preventable harm and providing safer health care. The Leapfrog Group is a national nonprofit organization committed to improving health care quality and safety for consumers and purchasers. The Safety Grade assigns an 'A', 'B', 'C', 'D' or 'F' grade to hospitals across the country based on their performance in preventing medical errors, injuries, accidents, infections and other harms to patients in their care.
"We are honored that the national Leapfrog Group acknowledges what our patients, physicians and employees already know: that UH Parma Medical Center provides superior quality care in a safe environment," said Brian Monter, President of UH Parma Medical Center. "This accomplishment is reinforced by our outstanding patient experience scores and recent recognition by the Centers for Medicare and Medicaid Services with a Five-Star rating for quality, safety and patient experience for the second consecutive year."
Developed under the guidance of a national Expert Panel, the Leapfrog Hospital Safety Grade uses 28 measures of publicly available hospital safety data to assign grades to more than 2,600 U.S. acute-care hospitals twice per year. The Hospital Safety Grade's methodology is peer-reviewed and fully transparent. Results are free to the public.
"To be recognized nationally as an 'A' hospital is an accomplishment the whole community should take pride in," said Leah Binder, president and CEO of The Leapfrog Group. "Hospitals that earn an 'A' grade are making it a priority to protect patients from preventable medical harm and error. We congratulate hospital leaders, board members, staff, volunteers and clinicians who work so hard to earn this A."
To access UH Parma Medical Center's full grade details and patient tips for staying safe in the hospital, visit hospitalsafetygrade.org.
CJ Sheppard
Senior Communications Strategist, University Hospitals Parma Medical Center
Read More on Parma General Hospital
Volume 11, Issue 6, Posted 4:53 PM, 06.03.2019