One Home, Many Benefits In $2 Million Renovation At UH Parma Medical Center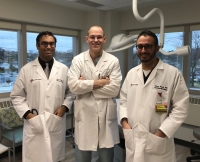 A $2 million investment in the renovation of a beautiful new UH Parma Medical Center office suite to house both General Surgery and UH Digestive Health Institute specialists streamlines care for patients and improves efficiencies for physicians and staff. "It's a genius idea to put surgery and GI doctors together," said Melinda Lakatos, BSN, RN, Nurse Manager of the CCU Stepdown, who was among the many employees and physicians who stopped by during a recent open house in Suite 309 of Medical Arts Center 2. "Our physicians consult with each other all the time on the floors. Now the patient doesn't have to go to several locations for appointments."
Patients now have the benefit of seeing two specialists in one stop, making it easier to schedule appointments and procedures with different physicians. For example, a gastroenterologist can easily refer a patient to a surgeon, sometimes offering same-day appointments. Similarly, a general surgeon can schedule a procedure such as a colonoscopy with a gastroenterologist while the patient is in the office, notes Gastroenterologist Dany Raad, MD. "This is a great opportunity to allow for coordination of care in both the medical and surgical approach to the GI tract," said Richard Ungvarsky, MD, a general surgeon who also performs bariatric procedures. A connecting door to the neighboring Bariatric Surgery, Metabolic & Nutrition Center allows him to easily see patients in both suites. This center for both metabolic and surgical weight loss options provides medically supervised weight loss options and leading-edge surgery options for long-term weight loss, including minimally invasive procedures.
In the General Surgery/Digestive Health Institute suite, physicians find that sharing the same office space results in improved communication between physicians on complex cases, says Dr. Raad. General surgery has seven exam rooms, and GI has five larger rooms, with a common waiting room and check-in for patients.
The eight physicians now located in Suite 309 are:
CJ Sheppard
Senior Communications Strategist, University Hospitals Parma Medical Center
Read More on Parma General Hospital
Volume 10, Issue 12, Posted 10:52 AM, 12.01.2018