UH Parma Medical Center's Surgery Department To Undergo $27 Million Renovation, Expansion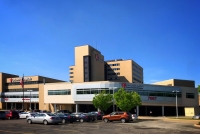 University Hospitals Parma Medical Center will invest $27.5 million to completely renovate and expand its Department of Surgery, in the largest construction project to be done within the main hospital in 33 years. The project will begin with a new addition to the building and will proceed in multiple phases over a two-year period to avoid disruption to surgery operations.
"We are very pleased to announce the most transformative renovation of our hospital in more than three decades," said UH Parma Medical Center President Peter U. Bergmann, FACHE. "This project signifies our commitment to remaining the healthcare provider of choice in Parma and our surrounding communities."
An increasing demand for outpatient surgery will prompt the expansion of pre- and post-operative areas for outpatient procedures. The patient experience will be further enhanced, with greater privacy for surgery patients and a more spacious waiting room for family members.
Expanded, state-of-the-art operating room suites also support the growth of several UH service lines and institutes at UH Parma Medical Center, including orthopedic surgeries with the Sports Medicine and Spine institutes, the vascular and thoracic surgeons of UH Harrington Heart & Vascular Institute, bariatric surgeons of UH Digestive Health Institute, ophthalmologists of the UH Eye Institute and urologists of the UH Urology Institute. Over the past few years, UH Parma Medical Center has recruited several new surgeons in these specialties.
The Surgical Services Department will be expanding by more than 11,500 square feet, including an addition to the building of approximately 7,700 square feet. In this redesigned department surgical suites, pre-procedure and recovery areas will be enlarged to accommodate current and future equipment needs.
"This major overhaul of our entire surgical services builds upon other recent visible improvements, including the recent $1.9 million updating of all of our inpatient patient floors and main lobby," said Kathi O'Connor, UH Parma Medical Center's Director of Operations. "Planning is currently in process for the new OR project, and we will see signs of construction by the end of the year."
CJ Sheppard
Senior Communications Strategist, University Hospitals Parma Medical Center
Read More on Parma General Hospital
Volume 10, Issue 9, Posted 3:39 PM, 09.02.2018