Timothy Boyko To Chair UH Parma Medical Center's Restructured Board Of Directors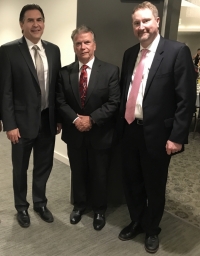 The Board of Directors of University Hospitals Parma Medical Center is restructuring to meet the changing needs of the hospital in the community. Led by new Board Chairman Timothy Boyko, the Board will have three members from Parma and one from each of our other founding communities of Parma Heights, North Royalton, Seven Hills, Brooklyn and Brooklyn Heights, as well as one from Broadview Heights.
Boyko, an attorney with the law firm Mansour Gavin, also serves on the City of Parma Civil Service Commission and as Magistrate in Broadview Heights Mayors' Court. He takes the helm from Dave Nedrich, President & CEO of the Parma Area Chamber of Commerce, who concludes 27 years of dedicated service to the hospital through the Parma Hospital Health Care Foundation Board and a decade on the Board of Directors representing North Royalton. Dave has served as Board Chairman since 2011.
At a recent Service Awards Dinner honoring more than 100 employees for milestone anniversaries of 10 to 40 years of service, UH Parma Medical Center President Peter Bergmann welcomed Boyko and thanked Nedrich for serving as chairman during a pivotal time for the hospital. Nedrich chaired the Board when UH Parma aligned with the UH system, which occurred in January 2014.
"UH mirrored our organization and gave us the best chance to keep care in the community rather than to send cases downtown," Nedrich said. "Our plan was to keep this hospital available to our patients for many years to come.
"I am quite confident of the strength UH gives us."
Two new members are joining the Board: Donna Imhoff, PhD, President of Cuyahoga Community College's Western Campus, representing Parma; and Brenda Tayfel Spear, representing Nursing. Other members of the Board as currently comprised are: Douglas J. Keller, Vice Chairman (Brooklyn Hts.); Julius Ciaccia (Broadview Hts.); John H. Bundy (Brooklyn); Claudio Zanin (North Royalton); Donna Thomas (Parma); Lesley DeSouza (Parma Hts.); Eric Moore (Seven Hills); Paul G. Tait (UH); Angelo Pimpas (Foundation); and Gerald Burma, MD (Physician Trustee).
Bergmann also thanked those members departing the Board after many years of service: Jack C. Krise Jr., Parma, 12 years; Sharon Martin, Parma, 13 years; JoAnn Mason, Parma, 13 years; Louis D. Ripepi Jr., Parma, two terms for a combined 17 years; Therese Safranek, Brooklyn Hts., four years; Nino Seritti, Seven Hills, six years; Andrea Wittine, Brooklyn, two years; Jennifer Wurst, MD, Medical Staff, three years.
CJ Sheppard
Senior Communications Strategist, University Hospitals Parma Medical Center
Read More on Parma General Hospital
Volume 10, Issue 6, Posted 12:35 PM, 06.02.2018