Family & Friends CPR Arms Citizens With Life-Saving Skills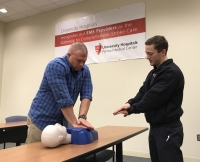 A staggering 88 percent of cardiac arrests occur at home, according to the American Heart Association. If your loved one or a visitor collapsed in cardiac arrest, would you know what to do?
Effective bystander CPR can double or even triple a person's chances of survival. By knowing CPR, you could be administering life-extending chest compressions to someone in cardiac arrest while waiting for an ambulance to arrive. On Saturday, April 21 from 9:30 a.m. – 12:30 p.m., University Hospitals Parma Medical Center will host a Family & Friends CPR course at UH Parma Health Education Center, 7300 State Road, Parma.
The course is ideal for community groups, grandparents, new parents, babysitters and others interested in learning how to save a life. Participants will learn how to perform CPR on adults, children and infants, as well as how to respond when someone is choking.
"Hosting events like Friends & Family CPR is an important component to Building Lifesaving Communities," says Daniel Ellenberger, Director of University Hospitals EMS Training & Disaster Preparedness Institute. "Being trained in CPR can increase the chances of a family member surviving a sudden out-of-hospital cardiac arrest."
Susi Kugler, a secretary for UH Parma Medical Center's Food & Nutrition Services, disliked feeling helpless when she heard "First Responder" calls for people in distress in the hallway at the hospital. She took a CPR class offered recently at the hospital.
"You never know," said Kugler, whose parents are getting older and whose department is not located near patient care areas with CPR-trained clinical staff. "If someone is in trouble, I want to be able to help. I don't want to just stand there and watch."
Kugler appreciated the chance to practice chest compressions on a mannequin. Like many participants, she was surprised at how difficult it was to depress the chest at least two inches, and to maintain a pace of at least 100 compressions per minute.
"We want survivability," said Greg Breen, a 25-year instructor with UH Parma's EMS Institute with 31 years of experience with Cleveland EMS. "The person you're performing CPR on will have a better quality of life because they had bystander CPR."
The course costs $30. Register by calling 440-743-4932.
CJ Sheppard
Senior Communications Strategist, University Hospitals Parma Medical Center
Read More on Parma General Hospital
Volume 10, Issue 5, Posted 7:30 AM, 05.03.2018