There's A Parma Heights Connection To A Forthcoming Book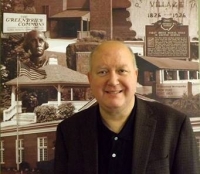 The city of Parma Heights was well represented at the annual Parma Area Chamber of Commerce President's Gala, March 10 at Holy Spirit Party Center. Among the notables attending were semi-retired Plain Dealer Sports Columnist and WJW-TV Sports Anchor Dan Coughlin with his son, Joe Coughlin, owner of Kwik Car Wash at West 130th Street and Pearl Road. Coughlin shared that he is working on his fourth book, which is to be titled "Last Call," and is due out November 4. It will feature many of the "great characters" that Coughlin said he's encountered in his more than five decade career covering Cleveland sports. Coughlin, who resides in Rocky River, turns 80 on September 17. His son, meanwhile, continues to be considered an up-and-comer in our community because of his civic involvement.
PERSONAL TRAINER PAR EXCELLENCE – Vince Anello, the local fitness trainer who has been a Parma Heights business owner since 2012, and has been working one-on-one training people since 1968, was the first person weighing under 200 pounds to deadlift 800 pounds in the United States.
That happened back in 1975 in Harrisburg, PA.
He's also a treasure trove of information and is one of our best local resources when it comes to personal training. Anello, who turns 71 this year, looks more like 51. He's a member of the World Strength Hall of Fame, having been inducted in Las Vegas in 2015, and has been a member of the weightlifting Hall of Fame since 1998.
What's his secret?
"You've got to keep moving," says Anello, who currently works with clients from 15 to 82. He says his oldest client is stronger than the youngest.
"The common denominator is a positive mindset," said Anello. I was a short little fat kid. If I can do it, anyone can do it."
He believes that all people can achieve their goals if they will just allow them to happen.
Anello is often seen around town walking his four Greyhounds – Ajax, Coin, Solo and NASDAQ – the latter named yes, after the stock market index.
GET YOUR CAREER IN GEAR - Valley Forge High School's will host a Career Expo on Friday, April 27, 2018. The Career Expo will be held in the school gymnasium, 9999 Independence Boulevard, Parma Heights. For participant organizations, a table with a blue table cloth, light breakfast, and a box lunch and drink will be provided.
The Career Expo will take place between 10 a.m. and 1 p.m.
The purpose of the Career Expo is to promote careers, colleges, trades, local business, marketing, and entrepreneurship to Valley Forge students and get them connected to businesses, learn about colleges to attend, and start the networking process earlier than their senior year of high school.
Donations are being sought to give away during the Career Expo. For more information, contact Carolyn Holt-Balis at holtbalisc@parmacityschools.org.
GREAT CLEVELAND CLEAN UP -- The fifth annual "Great Cleveland Clean-Up takes place on Saturday, April 21 at 38 different parks and locations across Greater Cleveland, including Kurtz Park at 6289 West 130th Street in Parma Heights.
Volunteers can meet coordinators at any of the different meet-up locations by 12:30 p.m. Before dividing into groups, volunteers are taught how to recycle and are educated on the effects of litter. They then spread out in teams of five, removing as much litter as possible in three hours. Volunteers primarily focus on removing litter from parks, sidewalks, playgrounds, neighborhoods, and highway exits and entrances.
The Great Cleveland Clean-Up is an opportunity for employees or students to receive community service hours. Goal of this years' effort is is to enlist 2,800 volunteers for the Great Cleveland Clean-Up.
Executive Director of the effort is Jeff Schlekie, who can be reached at 440-829-4703 or via email at jeff@thelitterbugz.org. President is Nina Rossi, 216-470-4548, nina@thelitterbugz.org. Vice President is Matt Schmidt, 440-225-8215, matt@thelitterbugz.org.
YOU CAN UKE! – This sounds like big fun! The Parma Heights Branch of the Cuyahoga County Public Library will host a program especially for teens in grades 6-12 on how to play the Ukelele.
The program begins at 1:30 p.m. Saturday, April 7 in Meeting Room A of the Library, 6206 Pearl Road. For more information, or to pre-register for the program, go to www.cuyahogalibrary.org/parmaheights.
A NIGHT AT CLUB CASSIDY – It's still not too late to get your tickets for "A Night at Club Cassidy, a benefit for our local community theatre, named for the late former Mayor Paul W. Cassidy. Tickets are $37.50 individually, or $75 per couple. There will be heavy hors d'ouevres, cocktails, a series of special concert of vocal performances, not to mention a Silent Auction featuring loads of fabulous items for your bidding pleasure. There are several pieces of stellar photography, including works by Old Brooklyn's Jim Ptacek, known for creating the official gorgeous annual Cleveland Christmas cards for so many years, and John A. Montgomery, the talented local portraitist and photographer.
DIABETES PREVENTION AND EDUCATION -- Many of us are pre-diabetic and don't even realize it. With that in mind, the City of Parma Heights is partnering with the YMCA of Greater Cleveland to host an important community meeting in an effort to share information and keep all our residents healthy.
Come to the Cassidy Theatre at 6:30 p.m. Wednesday, April 4 when YMCA of Greater Cleveland Director of Health Initiatives Linda McVey will lead a session on the Y's highly successful diabetes prevention and education program.
The program is free.
This small-group program helps people with prediabetes eat healthier, increase their physical activity and lose weight, which can delay or even prevent the onset of type 2 diabetes.
What is Diabetes?
Diabetes is a chronic disease that causes blood sugar levels to rise higher than normal. Diabetes affects more than 29 million people. A condition called prediabetes occurs when blood sugar levels are higher than normal but not high enough for a type 2 diabetes diagnosis. More than 86 million Americans have prediabetes and are at risk of developing diabetes. Diabetes has no cure, but prediabetes can be reversed.
ONE SINGULAR SENSATION –The Cassidy Theatre will present the musical, "A Chorus Line," beginning April 6 and continuing through April 22.
Conceived and originally directed and choregraphed by Michael Bennett, the musical is based upon the book by James Kirkwood and Nicholas Dante, with music by Marvin Hamlisch and lyrics by Edward Kleban. Kristin Netzband directs the Cassidy production. The original Broadway production was produced by the New York Shakespeare Festival by Joseph Papp, in association with Plum Productions, Inc.
For tickets, visit www.cassidytheatre.com, or call the box office at 440-842.4600.
RECYCLE YOUR COMPUTER - The city will host a recycle your computer event from 9 a.m. to Noon on Saturday, April 14 at the Service Garage in the Greenbrier Commons complex. Bring in your old computers and printers and the city will recycle them for you.
PITCH, HIT AND RUN -- Major League Baseball Pitch Hit & Run (PHR) is a free, one-day event for boys and girls ages 7-14. Parma Heights will host the event from 5-8 p.m. Friday, April 27 at Kurtz Park. PHR is the official skills competition of Major League Baseball. Participants compete in either the Baseball Division or Softball Division and have the opportunity to advance through four levels of competition including Locals, Sectionals, Team Championships and the National Finals during MLB All-Star Week.
FROM THE PARMA HEIGHTS LIBRARY --The RFK Assassination: 50 Years Later -- Beverly Sadowski will speak on what we know fifty years after the assassination of Robert F. Kennedy (1968). The program is free and open to the public, and begins at 7 p.m. Thursday, April 5 in Meeting Room C.
UNDERSTANDING CHRONIC PAIN -- If you suffer from chronic pain, you won't want to miss this important program. Dr. Kermit Fox of MetroHealth Medical Center will discuss what is chronic pain, how to manage it, and various alternatives to pain medications. The program will be held from 2-3 p.m. Thursday, April 12 in Meeting Room A.
PEDALING ON THE NORTH COAST - Want to explore Ohio's North Coast on a bicycle? This special library program includes detailed directions for every ride, including maps and mileage notations. You'll learn about favorite spots to eat and explore along each route, along with some historical background and interesting sidebar information. The program begins at 7 p.m. Thursday, April 26 in Meeting Room C. Dr. Murray Fishel, professor emeritus at Kent State University, an avid recreational cycle tourer, will be your host. The Parma Heights Library is located at 6206 Pearl Road in the Greenbrier Commons complex.
Rick Haase
Rick Haase handles Public Relations and Special Projects in the Office of Parma Heights Mayor Michael P. Byrne
Read More on Parma Heights
Volume 10, Issue 4, Posted 10:15 PM, 04.01.2018