UH Shares Advancements In Stroke Care At International Gathering Of Neurologists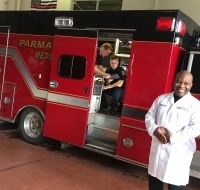 Innovative approaches to expediting care for stroke patients were shared by University Hospitals neurologists at the recent International Stroke Conference in Los Angeles. Neurologist John Andrefsky, MD, of UH Parma Medical Center, told the international audience about the success of the telestroke program piloted at UH Parma – the first program of its kind in Ohio. UH provided training and equipment to Parma Fire Department paramedics to livestream their stroke assessments from the field to the ER physician. By watching the pre-hospital assessment, the ER can alert pharmacy to mix clot-busting medicine and ensure the CT scanner is clear for the incoming patient.

Dr. Andrefsky told the audience of neurologists that telestroke has dramatically reduced the door-to-needle times for stroke patients. Like door-to-balloon (D2B) times that measure how long it takes to open occluded cardiac vessels in heart attack patients, the D2N times mark the time from the 9-1-1 call to inserting the needle in the ED that delivers clot-busting medicine to stop a stroke. "Preliminary analysis shows that field telestroke helps us evaluate stroke patients more quickly and with greater accuracy in order to expedite treatment at UH Parma and transfer for interventions, if necessary," Dr. Andrefsky said. UH's comprehensive stroke system also has had a significant impact on the American Heart Association's new 24-hour stroke reperfusion window. New guidelines for the treatment of acute ischemic strokes, the most common kind, also were announced at the conference.
Neurologist Cathy Sila, MD, Director of the Comprehensive Stroke Center at UH Cleveland Medical Center, presented on brain imaging from the landmark DAWN Trial. This trial lengthened the critical window during which stroke patients could be treated with mechanical thrombectomy using a device designed to remove a blood clot from a brain artery obstructing blood flow to the brain. Although time is always important in treating acute stroke patients, the DAWN trial has shifted the focus to identifying other patients who could clinically recover with low risk of reperfusion injury when treated with mechanical thrombectomy. Dr. Sila and her team looked at other imaging modalities beyond CT scans to determine if there was an advantage to patient outcomes.

"The DAWN trial proved that there are some stroke patients whose brain injury progresses slowly," said Dr. Sila, adding that neurologists also have access now to advanced neuroimaging such as special MRI and CT scans. "These patients can benefit from mechanical thrombectomy by reversing their stroke and preventing stroke progression in the face of a large intracranial artery occlusion."
CJ Sheppard
Senior Communications Strategist, University Hospitals Parma Medical Center
Read More on Parma General Hospital
Volume 10, Issue 3, Posted 12:48 PM, 03.02.2018