Parma Heights Police Officer Promoted To Rank Of Sergeant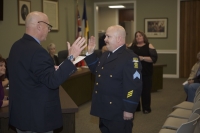 Mayor Michael P. Byrne is pleased to announce that Police Officer Stephen Lindh has been promoted to the rank of Sergeant.
Lindh was sworn-in as a part of the January 22 meeting of Parma Heights City Council.
He began his career as a Police Officer in 2002 with the Parma Heights Police Department. A veteran of the United States Marine Corps, Lindh served his first 16 years as a member of the Uniform Patrol Division.
Lindh serves as a Range Officer and is part of the city's Community Policing Unit. He is also currently a member of the Southwest Enforcement Bureau Tactical Unit.
Rick Haase
Rick Haase handles Public Relations and Special Projects in the Office of Parma Heights Mayor Michael P. Byrne
Read More on Parma Heights
Volume 10, Issue 2, Posted 9:46 AM, 02.05.2018