Parma Heights Police Chief Teel Set To Retire April 1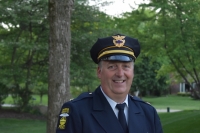 Police Chief Daniel D. Teel has announced his retirement effective April 1, 2018. He was appointed Chief of Police for the Parma Heights Police Department in August 2006. Teel graduated from Brooklyn High School in 1981 and began his law enforcement and Air Force ROTC studies at Akron University. In 1985 he started serving the City of Brooklyn as a part time police officer where he remained until his appointment in 1987 as a full time officer with the City of Parma Heights. After serving as a patrol officer, sergeant and captain, Teel was chosen as acting chief January, 2006. He was named Chief of Police on August 3, 2006.
Throughout his career, Teel has been active in supporting advances in technology, improving equipment and providing the men and women of the department with the resources they need to meet the extensive tasks and dangers they face.
Teel served as a member of the Southwest Enforcement Bureau Tactical Team for sixteen years. He attended the Harley Davidson Police Motorcycle Training School in 2000 and the FBI National Academy in 2004. He helped reestablish the motorcycle patrol unit of which he was an active member for two years.
Married thirty-one years to his wife Joyce, they have raised three children, Richard, Dedra and Bryan.
Referring to his career Teel said, "I am so grateful to have had the opportunity to be involved in the law enforcement profession. The variety of experiences, the outstanding people you meet and work with and the challenges encountered make it truly a unique and rewarding career."
Rick Haase
Rick Haase handles Public Relations and Special Projects in the Office of Parma Heights Mayor Michael P. Byrne
Read More on Parma Heights
Volume 10, Issue 2, Posted 9:46 AM, 02.05.2018