Flu Season Prompts Visitor Restrictions At UH Parma Medical Center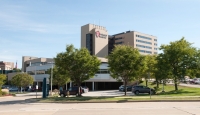 Due to increased seasonal influenza activity, University Hospitals Parma Medical Center has temporarily revised its visitor policy. Effective immediately, we will restrict visitors to all patient areas, including the emergency and maternity departments. The restriction applies to anyone under the age of 18, or anyone (of any age) who exhibits flu-like symptoms. This policy will remain in effect until further notice.
"At UH Parma Medical Center, we strive to provide the best care, even under the most challenging of circumstances," says Christopher J. Loyke, DO, Chief Medical Officer at UH Parma Medical Center. "We are currently experiencing a higher than normal volume of patients who have tested positive for influenza, or have clinical symptoms consistent with the condition. In order to minimize the impact of this increased volume of flu cases, we believe that it is necessary to restrict visitation to our hospital for the benefit of our patients and the public."
While visitation to the hospital is restricted at this time for people under 18 years of age and to anyone with flu-like symptoms, the emergency department continues to accept patients of all ages 24 hours per day, seven days per week.
CJ Sheppard
Senior Communications Strategist, University Hospitals Parma Medical Center
Read More on Parma General Hospital
Volume 10, Issue 2, Posted 9:46 AM, 02.05.2018