UH Parma Medical Center Achieves Highest Quality Rating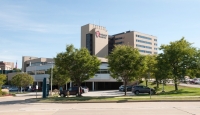 UH Parma Medical Center earned the highest possible quality rating in the latest scores released on Dec. 20 by the Centers for Medicare & Medicaid Services, the federal agency that administers Medicare. CMS rates hospitals from one to five stars, based on their safety, efficiency and patient experience. UH Parma Medical Center achieved a rating of five stars for 2018.
"This stellar star rating from CMS illustrates that it is a new day at UH Parma," says Peter U. Bergmann, President of UH Parma Medical Center. "We are among the best hospitals in the region because of our high-quality, compassionate care. We are proud of our Five Star CMS rating, which is achieved by a very small percentage of hospitals nationwide."
CMS calculates star ratings based on 57 quality measures. The overall rating indicates how hospitals fare relative to more than 4,000 hospitals in the United States. The score reflects common conditions, such as heart attack and pneumonia. CMS reviews three years of data on readmission rates and mortality, and one year of data on infection rates, hospital-acquired conditions and timeliness and effectiveness of care.
Become an informed consumer by searching the Hospital Care site at www.medicare.gov/hospitalcompare.
CJ Sheppard
Senior Communications Strategist, University Hospitals Parma Medical Center
Read More on Parma General Hospital
Volume 10, Issue 1, Posted 9:01 PM, 01.02.2018