Parma Heights Wins Auditor Of State Award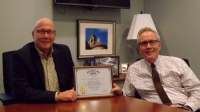 For the second time in five years, the City of Parma Heights has been recognized by Auditor of State Dave Yost with the prestigious Auditor of State Award. The Auditor of State Award is presented to local governments and school districts upon the completion of a financial audit. Parma Heights received a clean audit report.
"We're extremely honored to be recognized by the Auditor of State with this award," said Parma Heights Mayor Michael P. Byrne. "I attribute the success to our excellent Finance Director Terrence B. (Terry) Hickey. Terry is exceptional at what he does, and receiving this honor is proof of his expertise and financial acumen. Terry has faithfully and loyally served the city as Finance Director for 32 years."
Entities receiving the Auditor of State Award meet the following criteria of a "clean" audit report:
Filing timely financial reports with the Auditor of State's office in accordance with Generally Accepted Accounting Principles (GAAP).
The audit report does not contain any findings for recovery, material citations, material weaknesses, significant deficiencies, Single Audit findings or questioned costs;
The entity's management letter contains no comments related to:

Ethics Referrals
Questioned costs less than $10,000
Lack of timely report submission
Reconciliation
Failure to obtain a timely Single Audit
Findings for recovery less than $100, and
Public meetings or public records.
This is the second time the city of Parma Heights has been the recipient of the Auditor of State Award. The first honor came in 2012.
Rick Haase
Rick Haase handles Public Relations and Special Projects in the Office of Parma Heights Mayor Michael P. Byrne
Read More on Parma Heights
Volume 9, Issue 11, Posted 4:49 PM, 11.01.2017