Breathing Easier: Reducing Readmissions For COPD Patients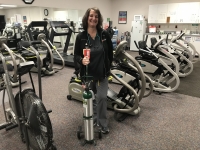 The elderly man, compromised by Chronic Obstructive Pulmonary Disorder (COPD), was admitted to University Hospitals Parma Medical Center four times in six weeks. Then he met Lora Raudins, a respiratory therapist uniquely focused on educating patients to cope with this disease, and he has not returned since.
"Often patients are in denial that they have COPD until they learn that many lung diseases fall under this umbrella," says Lora, a respiratory therapist using 23 years of experience to thoroughly educate inpatients on their disease and the medications and outpatient rehabilitation that can keep them from returning to the hospital. "COPD is a scary disease, but education is the key to helping people live a full and active life."
The COPD readmission rate nationally is second only to heart failure. Ohio has a higher prevalence of this chronic disease, among the nation's leading causes of death, afflicting one in five patients over age 40. The Parma Hospital Health Care Foundation, which for 30 years has supported the work of the hospital in caring for the community, funded a pilot program for a dedicated respiratory therapist to reduce the hospital's COPD length-of-stay and readmission rate.
"We work hard to innovate on behalf of our patients, offering new programs and services to ensure they receive the best care when they need it most," says Foundation Executive Director Marcia Ferguson. "Transitions for Success is another example of our personalized care for patients with chronic illnesses."
Lora averages seeing 55 patients each month who have COPD as a primary or secondary diagnosis. Since she became the COPD Navigator in January, readmission rates dropped from 17.7 to 14.5 percent. And enrollment in outpatient Pulmonary Rehabilitation, where therapy and lifestyle changes like smoking cessation are reinforced, has increased by 20 percent.
UH Parma adapted a program established by UH Elyria Medical Center, which has enrolled more than 1,000 patients since initiating follow-up with COPD patients in 2014. As a NICHE hospital, UH Parma has additional protocols for elder care and is part of a systemwide High Reliability Medicine initiative to improve COPD care.
"This opportunity has done so much more than reduce readmission rates," Lora says. "This program is allowing COPD patients to take control of their disease rather than the disease controlling them."
CJ Sheppard
Senior Communications Strategist, University Hospitals Parma Medical Center
Read More on Parma General Hospital
Volume 9, Issue 11, Posted 4:48 PM, 11.01.2017