UH's New Family Medicine Clinic Takes Appointments, Walk-Ins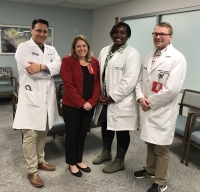 Family medicine residents, supervised by longtime UH family practice physicians, are now accepting patients at their new clinic at University Hospitals Parma Medical Center.
Residents can care for all forms of acute care conditions, physical examinations, vaccinations and injuries like sprains and lacerations. They also perform osteopathic manipulative treatment for back and neck problems. The clinic takes walk-in patients and can serve as a family doctor's office with scheduled appointments.
"We see the complete range of medical situations, from babies to senior citizens," says Michael E. Saridakis, DO, Medical Director of the Residency Clinic. "A lot of patients really appreciate how thoroughly their medical chart is reviewed by the resident. We can be the regular physician, for patients of all ages. This is essentially a training center for family doctors to learn the full spectrum of family practice."
Patients are seen first by the resident physician, who confers with the supervising physician, either Dr. Saridakis or Paul Bures, DO. The supervising physician may also see the patient. Treatment is delivered following efficient and thorough evaluation.
University Hospitals has the largest primary care network in northern Ohio. UH Parma Medical Center began its residency training program in family practice and internal medicine in 2015. Establishment of a residency clinic is a requirement of this program, and all residents will work in the clinic as part of their training.
"This Family Medicine Residency Clinic is in keeping with UH Parma Medical Center's mission to provide primary care services to our community," says UH Parma Medical Center Chief Medical Officer Christopher Loyke, DO, a senior member of UH's Loyke & Saridakis group and a longtime mentor and educator of medical students.
The Family Medicine Residency Clinic, located at 6681 Ridge Road in Medical Arts Center 1 adjacent to the main hospital, is in Suite 205. The clinic is open Monday, Tuesday and Thursday from 8:30 a.m. – 4:30 p.m. and Wednesday 1 – 4:30 p.m. Call 440-743-8520 for an appointment.
CJ Sheppard
Senior Communications Strategist, University Hospitals Parma Medical Center
Read More on Parma General Hospital
Volume 9, Issue 10, Posted 8:44 AM, 10.05.2017