Fall Is In The Air In Parma Heights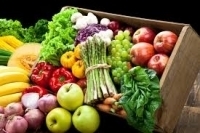 We've just celebrated the first "official" day of fall. In this season of changing leaves and cooler temperatures, there is one local organization which helps hundreds of people each year -the Parma Heights Food Pantry.
They are continuing to work in conjunction with the Cleveland Foodbank to offer distributions of free produce in our community. The next such event is Saturday, October 7.
The free produce distribution happens in the parking lot behind Parma Heights City Hall beginning at 9 a.m. and continuing as long as supplies last. Those desiring the produce are asked to bring their own bags. You do not have to be a Parma Heights resident to take advantage of the free produce.
Pumpkin Painting
Here is something that is fun for not only the children, but for the whole family.
The Parma Heights Historical Society will host their second annual Pumpkin Painting event from 11:30 a.m. to 1:30 p.m. Saturday, October 21, 2017 at the Gazebo at Greenbrier Commons.
The event is open to children in Parma Heights ages 12 and younger and is free.
Halloween
Trick-or-treating will take place from 6-8 p.m. Tuesday, October 31. Residents are asked to turn on their front porch light if they are handing out candy to children. Trick-or-treating takes place regardless of the weather.
Spring and Summer 2018 Sports Program Sign-Ups
Please watch the city website -www.parmaheightsoh.gov - for sign-up information for spring and summer 2018 sports programs. Infoprmation will be posted beginning in January 2018.
Election Day 2017
This fall, Election Day is Tuesday, November 7, 2017. To vote by mail: all registered voters will receive a Vote By Mail application from the Ohio Secretary of State, but you don't have to wait. Applications are available on the Cuyahoga County Board of Elections webiste -- www.443VOTE.com. Or you can call 216.443.VOTE (8683).
If you are interested in serving as a poll worker, please call the same 216.443.VOTE (8683) number or go to www.443.VOTE.com
Your vote matters.
Rick Haase
Rick Haase handles Public Relations and Special Projects in the Office of Parma Heights Mayor Michael P. Byrne
Read More on Parma Heights
Volume 9, Issue 10, Posted 8:42 AM, 10.05.2017