UH Funds Mobile App For Citizen First Responders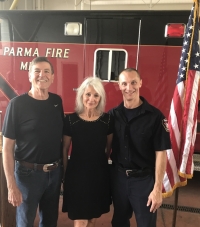 Citizen first responders trained in CPR can now receive text alerts of those in need of CPR in their vicinity through a new app. The PulsePoint Respond app was unveiled by University Hospitals Parma Medical Center and the Parma Regional Dispatch Center, which covers Parma, Parma Heights, Brooklyn and Brook Park.
"We know that CPR is fundamental to building lifesaving communities," said Daniel Ellenberger, Director of University Hospitals EMS Education & Disaster Preparedness Institute. "The first line of defense in a cardiac arrest is a person trained in CPR, who can assist before EMS arrives. The only way we're going to save lives is to have people trained."
UH provided financial support to the Parma Regional Dispatch Center to implement PulsePoint, as it has throughout Geauga County and in the City of North Olmsted. Ellenberger notes that the implementation of PulsePoint in these four southwestern suburbs in Cuyahoga County expands coverage to as many as 200,000 citizens.
The American Heart Association's 2016 statistics show that more than 350,000 cardiac arrests - or 70 percent - occur outside a hospital setting each year. Only about 46 percent of those individuals receive CPR before professional help arrives. CPR can double or triple a person's chance of survival.
The mobile PulsePoint app, available for iPhone and Android through the iTunes Store and Google Play, notifies users of the closest available Automated External Defibrillator (AED). The PulsePoint app is not limited to emergency responders or those with official CPR certification, as it can be used by anyone who has been CPR-trained. It also shows the location of the cardiac arrest victim and nearest Automated External Defibrillator (AED).
At a June 29 news conference attended by EMS and city officials from the four cities, Parma Fire Chief Mike Lasky thanked UH Parma for helping the Parma Regional Dispatch Center with a means to extend lifesaving opportunities to its citizens. Ohio law now requires high school graduates to be trained in CPR and AED use.
"I am confident with the launch of PulsePoint, we will empower our citizens and save countless lives," Chief Lasky said.
Parma Mayor Tim DeGeeter recalled the June 19 motor vehicle accident on Snow Road, in which a passing motorist stopped to administer CPR before EMS arrived on the scene. The passerby, a nurse who was on her way to work at UH Parma Medical Center, saved the life of a child and assisted the paramedics upon their arrival.
"CPR has the power to save a life," Mayor DeGeeter said. "We are hoping with the launch of PulsePoint more people can provide the kind of assistance she did, whether they are medical professionals or not."
Since 1983, the EMS Education Department at UH Parma has trained paramedics and emergency medical technicians serving the community. Now, as part of the UH EMS Education & Disaster Preparedness Institute, this program has a broader reach with innovative solutions to the myriad of life-and-death situations encountered in the emergency pre-hospital setting. The EMS Institute continues to provide medical direction and continued education for area EMS professionals.
To register for a CPR course offered through UH's EMS Institute, go to UHEMS.org.
CJ Sheppard
Senior Communications Strategist, University Hospitals Parma Medical Center
Read More on Parma General Hospital
Volume 9, Issue 8, Posted 11:32 AM, 08.02.2017