Ohio Flags Of Honor Returns To Parma Heights August 11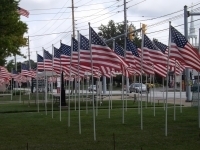 For the fifth consecutive year, the City of Parma Heights proudly welcomes the Ohio Flags of Honor Foundation August 11-13, 2017. The Ohio Flags of Honor (OFOH) was founded by Gino Zimmer, the father of fallen hero Army Specialist Nicholaus Zimmer, who was killed in Iraq on May 30, 2004. Zimmer created OFOH to honor the men and women from Ohio who paid the ultimate price protecting our freedom in the service of our country in both Iraq and Afghanistan.
To memorialize our fallen heroes, the Foundation has created a display of over 750 United States Flags. 293 of those flags represent those brave Ohioans who lost their lives. There are individual flag poles inscribed with each of their names.
The Ohio Flags of Honor will be on display in the Greenbrier Commons, 6200 Pearl Road, and open to the public from Friday evening, August 11 until Sunday afternoon August 13. An opening ceremony will take place at 7 p.m. Friday, August 11. The families of Ohio's fallen heroes have been invited to attend.
Rising Christian music singer Samantha Hasselbusch, a Middleburg Heights resident, will sing the National Anthem.
Parma Heights Mayor Michael P. Byrne will offer brief remarks at the Opening Ceremony.
A Closing Ceremony will take place at Noon on Sunday, August 13.
Rick Haase
Rick Haase handles Public Relations and Special Projects in the Office of Parma Heights Mayor Michael P. Byrne
Read More on Parma Heights
Volume 9, Issue 8, Posted 11:31 AM, 08.02.2017