UH Parma's Child Care Center Receives Four Stars For Quality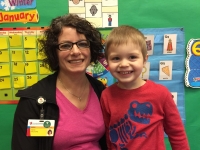 In recognition of a commitment to quality and an ongoing dedication to the learning and development of children, University Hospitals Parma Medical Center's Child Care Center has received a Four-Star Step Up To Quality Award from the state of Ohio.
Step Up To Quality is Ohio's rating system, based on national research, that leads to improved outcomes for learning and development programs. Participating programs can earn ratings from one to five stars; UH Parma Child Care Center previously earned two stars in 2013. Star-rated programs demonstrate higher levels of quality, with dedication to school readiness skills, continuous improvement and family engagement. UH Parma's teachers have higher education levels than required, with additional training annually.
Four-Star rated programs are signified by:
Higher educational qualifications - Administrator and lead teachers have associate's or bachelor's degrees, many years of experience working with young children and complete at least 20 hours of specialized training every two years.
Written, research-based curriculum – The lesson plans are aligned to Ohio's Early Learning and Development Standards
Setting developmental goals – Teachers complete developmental screenings, set annual goals and evaluate students twice each year
Building strong relationships with families – Teachers work closely with parents to develop educational goals for the children
"UH Parma's Child Care Center is very proud to have attained four-star status," said Manager Leah Anastasakis. "We know that children have 1,892 days from birth until school starts and every day matters. It is important to us that children develop their self-confidence, social and emotional skills, and a love of learning."
Located in the UH Parma Health Education Center at 7300 State Road in Parma, the Child Care Center provides affordable, high-quality day care to children ages six weeks to Kindergarten. Children are placed into classes by age, with infants, toddlers and preschoolers in separate classrooms. In addition to meals, diapers and formula, children have access to an outdoor playground and a gymnasium. For more information, call 440-743-2585 or visit UHHospitals.org/ChildCareCenter.
Research finds the first five years of a child's life have a direct impact on how children develop emotional well-being, in addition to learning and social skills. For these reasons, the Ohio Department of Job and Family Services and the Ohio Department of Education are committed to improving early childhood opportunities for all children in the state.
"My goals for the children are that they find a love for learning, learn to be respectful and mannerly towards others and to leave school each day feeling proud of their accomplishments," says Maria Armeni, a teacher at the Center for 26 years who currently teaches in one of the preschool classrooms. "I prepare the children for school by giving them opportunities to learn through play and exploration while encouraging them to use their five senses in helping them retain the information. I am honored to have worked with so many families over the years and the memories will last a lifetime."
Parents appreciate the convenient, quality child care that helps shape their children's world.
"My son has learned so much, made so many friends, and grown into such a wonderful 'little man,'" says Anesthesiologist Assistant Doug Marsh, whose 4-year-old son, Kainen, has been attending the Center since he was 6 months old and adores Miss Maria. "Everything that Miss Maria does is focused on providing the children with a comfortable learning environment where they are encouraged to explore."
For more details, go to www.earlychildren.org/sutq.
CJ Sheppard
Senior Communications Strategist, University Hospitals Parma Medical Center
Read More on Parma General Hospital
Volume 9, Issue 7, Posted 5:15 PM, 07.02.2017