Parma Heights Will Be A Busy Place This Summer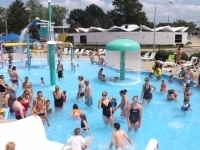 It seems hard to fathom, but the end of another school year and beginning of summer vacation is upon us….and it will be a busy month of June for the residents and families of Parma Heights. Our outdoor Waterpark complex opens for the summer season at Noon on Friday, June 9. Pool passes are available for purchase online (www.parmaheightsoh.gov), at City Hall, or at the pool when it opens. If you are in need of some laughter as we head into summer, The Cassidy Theatre, our community's hidden gem, will be presenting "A Funny Thing Happened On The Way To The Forum," June 9 through 25. Written by Burt Shevelove and Larry Gelbart, with music and lyrics by Stephen Sondheim, this fast-paced farce combines the ancient comedies of Plautus with a vaudevillian delivery. Tickets are available by calling the theatre box office at 440.842.4600, or online at www.cassidytheatre.com.
Speaking of Cassidy Theatre, you will notice the completion of an interior renovation project in the community rooms on the lower level of the theatre building. This project includes new paint, ceilings, floors, and energy efficient lighting, and was funded through a $50,000 State Capital Grant with the assistance of State Representative Martin J. Sweeney (OH-14). This renovated space includes two separate rooms which are suitable for use by the residents of our community. One room accommodates 50, the other, 100. Both spaces can be used for functions such as weddings, showers, rehearsal dinners, birthday/family parties, and meetings. If you are a Parma Heights resident and interested in reserving the space for your function, call 440.884.9606.
Parma Heights also was one of 20 participating cities and non-profit organizations to be awarded a $50,000 grant from Cuyahoga County which will be used to enhance the exterior façade of the Cassidy Theatre building, first opened to the public in 1974. Work on the exterior renovations is anticipated to be completed this summer.
On Monday, June 12 at 7 p.m., the Parma Heights branch of the Cuyahoga County Public Library will present the Largely Literary Theater Company, performing a two-person show based upon the book by veteran local journalist Mark Dawidziak, entitled, "Everything I Need to Know I Learned in the Twilight Zone." The show features 50 life lessons drawn from classic Twilight Zone episodes. The Parma Heights Library will also present a workshop entitled "Job Applications Made Easy," from 6:30-8:30 p.m. on Wednesday, June 14. The workshop will cover the basics of completing a job application, and participants will learn how to develop a profile, copy, paste and upload a resume.
On consecutive Wednesdays, June 14 and 21, our Recreation Department will host registration for Flag Football from 4:30-6:30 p.m. at Parma Heights City Hall, 6281 Pearl Road. And finally, families of all ages are welcome to attend our first free "Movie in the Commons," of the season beginning at 9 p.m. on Saturday, June 17. Bring your blanket and lawn chair as we screen "Zootopia" behind the tennis courts.
Don't forget to stop and visit one of our many parks or take advantage of our proximity to the Cleveland Metroparks. We look forward to having you spend your summer with us in Parma Heights.
Mike Byrne
Michael P. Byrne is Mayor of the City of Parma Heights, Ohio.
Read More on Parma Heights
Volume 9, Issue 6, Posted 8:51 AM, 06.02.2017