History Of The Parma Heights Logo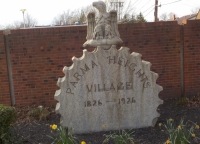 Have you ever wondered the history of the Parma Heights logo that sits in front of the Parma Heights fire station? It was originally a section of a pillar from in front of a downtown Cleveland bank. In 1926, Philip Bentz, a monument builder on Scranton Road, cut and engraved the stone in honor of the first centennial of the city of Parma, which until 1911 included Parma Heights. The eagle was added a short time later. Myron Kronenberger, a member of the Paul Cassidy team, was the first to use it as his calling card. Paul Cassidy and city hall then made it the official logo of the city where now you can see it everywhere: city signs, letterhead, mailings, and on city vehicles.
Bob Stilwell
Retired Manufacturing Supervisor since 2008. I'm a member of the American Legion Post 703 in Parma, Ohio. Active Member of the Parma Heights Historical Society. I write Memorials for an internet group called "Find A Grave."
Read More on Parma Heights
Volume 9, Issue 5, Posted 2:43 PM, 05.02.2017