Flooding Assistance For Parma Heights Residents Continues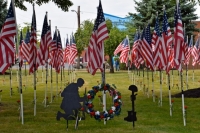 After last week's torrential rains, the City of Parma Heights is continuing to work to assist residents who experienced problems due to flooding. The unusually heavy rainfall Wednesday night April 19 resulted in severe flooding problems for many Parma Heights residents. Our Service Department employees responded immediately and began assisting residents Wednesday night. They've done a fantastic job. The flooding was something we could never have predicted.
Parma Heights Service Director Dennis Patten and I met Thursday, April 20 with officials from the Cuyahoga County Emergency Management Office and the American Red Cross.
County Emergency Management staff toured the most hard-hit areas of the city and performed an assessment of flooding damage.
The American Red Cross is making available Clean Up Kits to those residents in need, and especially senior citizens or those who are low-income families. Residents in need of a Clean Up Kit should call the American Red Cross at 216.431.3010, and ask for Humanitarian Services. They can also visit www.redcross-cleveland.org
Parma Heights Service Department employees have been clearing catch basins to minimize further flooding should more heavy rainfall occur.
The city has leased a rubbish truck for a one-week period to do bulk item pick-up for those with flooding related refuse such as water damaged carpeting and furniture.
A VERY SPECIAL MEMORIAL DAY CELEBRATION
This year marks the 150th anniversary of of the annual joint celebration at Parma-South Presbyterian Church in Parma Heights. We want all of you to be part of it. Originally known as Decoration Day, Memorial Day is a day of remembrance for those who have died in service of the United States of America.
This 150th anniversary is thought to be the longest continuing Memorial Day observance in the State of Ohio.
Join us at 9:30 a.m. Monday, May 29, on the front lawn of the Parma-South Presbyterian Church, 6155 Pearl Road, where we will mark this milestone occasion with a service of remembrance. In honor of the 150th anniversary, we are working on plans for a very special guest speaker, to be announced as the event gets closer. Watch our website – parmaheightsoh.gov – and our Facebook page for details.
After the ceremony concludes, we'll parade north on Pearl Road to the Parma Heights Cemetery, where they will be the playing of "Taps," a traditional wreath laying, and another brief community service honoring those Parma Heights residents who sacrificed their lives for our country.
We are asking as many of you as possible to attend this solemn service, and to have a huge turnout of residents lining both sides of Pearl Road on this all-important 150th Memorial Day anniversary. We are also asking residents to wear red, white and blue to visually demonstrate their civic pride.
Join your neighbors and your friends to show your pride for the city, our country, and most especially, for those who have died in military service.
OHIO FLAGS OF HONOR RETURNS AUGUST 11
Another important upcoming event in our city is the return of the Ohio Flags of Honor (OFOH).
The event returns to Parma Heights for the fifth consecutive year. The OFOH was founded to honor the men and women of Ohio who paid the ultimate price protecting our freedom in the service of our country in both Iraq and Afghanistan.
Created by Gino Zimmer, father of Fall Hero Army Specialist Nicholaus Zimmer, killed in Iraq on May 30, 2004, this traveling display has over 550 United States flags, of which over 250 represent the brave Ohioans who lost their lives.
What makes this so powerful and meaningful is the fact that the families of Ohio's Fallen Heroes are invited to attend the opening ceremony. Over the years, they have shared how much it means to them that our community remembers the sacrifices of their loved ones, and we, in turn, are able to extend our gratitude to the families themselves who have sacrificed so much.
The Ohio Flags of Honor will be on display in the Greenbrier Commons at 6200 Pearl Road and open to the public from Friday evening, August 11 after the 7 p.m. Opening Ceremony until the Sunday Closing Ceremony at Noon on August 13.
Mike Byrne
Michael P. Byrne is the Mayor of Parma Heights, Ohio.
Read More on Parma Heights
Volume 9, Issue 5, Posted 2:44 PM, 05.02.2017