Parma Heights Historical Society 2016 Review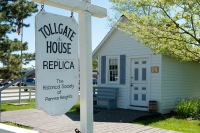 The Historical Society has made significant improvements in 2016. In addition to our monthly meetings, informal weekly meetings are held every Tuesday at 10:00 a.m. at the Parma South Presbyterian Church as an opportunity for available members to discuss any new or old business updates.
The previous 36 year old wooden fence was in disrepair as well as the roof. A new vinyl fence was installed, along with new roof shingles by Vocational students from Parma High School. We thank them very much as they did an outstanding job.
Volunteers also helped to paint the Tollgate House. A new sign for the Tollgate house will be installed in the spring of 2017.
Our membership has more than doubled from 7 to our current total of 18. Committees have been formed, with some members serving multiple groups. We are always encouraging more people to join our group which will aid our future projects to Preserve the Past and Present for the Future, which is our motto.
The Historical Society planned and implemented a pumpkin painting in early October for children 12 and under. This was a huge success that was enjoyed by all in attendance.
We have many other projects that our membership is working on for the future. We plan on implementing a newsletter, continue Century home progress, procuring a State Historical Marker for the Parma Heights Cemetery, continued improvements to the Tollgate House and surrounding grounds, and many other projects. Anyone interested in joining may call the Parma Heights Historical Society President, Aldo, at 216-496-7150.
Bob Stilwell
Retired Manufacturing Supervisor since 2008. I'm a member of the American Legion Post 703 In Parma, Ohio. Active Member of the Parma Heights Historical Society. I write Memorials for an internet group called "Find A Grave."
Read More on Parma Heights
Volume 8, Issue 12, Posted 6:53 PM, 12.04.2016