Seven Hills-VFW Post 7609 Children's Christmas Party December 7, 2014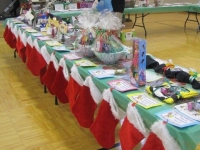 The 2014 VFW Children's Christmas Party will be held on Sunday, December 7th at the Seven Hills Community Recreation Center, 7777 Summitview Drive, from 1:00 – 4:00 p.m. This free family event is provided by the City of Seven Hills and VFW Post 7609.
This year the Children's Christmas Party will have plenty of festive holiday fun. There will be a craft fair in the gym plus a performance by the talented dancers from Diamond Dance Center as well as special visits from Elsa, Anna and other characters! This event also features Santa Claus and his merry elves, toys, light refreshments, a silent auction and raffle, swimming, kids' crafts, and a balloon twister. Families are encouraged to create a gingerbread house and bring it to the Recreation Center for display. First, second, and third place prizes for the gingerbread houses will be awarded on December 7, 2014 by popular vote. While all of the above events are free, attendees are encouraged to bring a non-expired food item for the Yuletide Hunger Program.
Anyone interested in donating services or products for the silent auction and/or raffle please contact Kathy Holland at 216-525-6227.
Read More on Seven Hills
Volume 6, Issue 11, Posted 10:45 AM, 11.03.2014