Seven Hills And Universtiy Hospitals Announce Opening Of Therapy Services At Recreation Center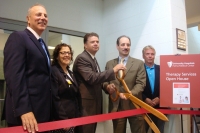 The City of Seven Hills held a June 10, 2014 ribbon cutting ceremony to announce the opening of the new University Hospitals (UH) Parma Medical Center Therapy Services unit at the city's Recreation Center. In attendance were a number of representatives of the hospital, the local business community and the city.
After thanking everyone for what he called the "team effort" in finally bringing the program to fruition after years of work, Mayor Richard Dell'Aquila cited for special recognition the city's two hospital board members, Eric Moore and Nino Seritti for keeping the proposal alive while the Parma Community General Hospital was contemplating a merger with UH. He also thanked Council President Mike Barth and former Ward 4 Councilman Pete Draganic, stating that the concept of a hospital physical therapy unit within the Recreation Center stemmed from a conversation the three of them began in 2011 while they served together on City Council.
The Mayor said the new facility will open many more possibilities for future wellness services at the Recreation Center, especially since UH has now taken over. "This will allow us to continue our efforts to bring the Recreation Center to profitability after 12 years of struggles, and to make it what was originally promised to the voters who approved building and funding it," he said.
"I see it also as an opportunity for more dialogue with UH to explore expanding our new relationship into other areas of wellness planning, perhaps even a future brick and mortar addition." He went on to also thank UH for its $50,000 grant to be used for wellness programs in Seven Hills.
Mayor Dell'Aquila concluded, "This is another example of finding innovative means to collaborate with our business and community partners in the region. We welcome the University Hospitals Parma Medical Center Therapy Services program to Seven Hills and we look forward to sharing an exciting future together."
Read More on Seven Hills
Volume 6, Issue 7, Posted 11:23 AM, 07.01.2014