Seven Hills Home Days Is Coming In July!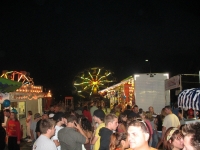 The City of Seven Hills biggest gathering of family, friends, and neighbors is July 25, 26, and 27, 2014 when Home Days comes back to Seven Hills for its 41st year! Held behind City Hall, 7325 Summitview Drive, Home Days always has fabulous food, riveting rides, magnificent music, and more. This year the Home Days musical entertainment will pay homage to the Golden Age of Rock-n-Roll. There will also be various vendors with a variety of items for purchase and two nights of fireworks. Mark the calendar! The firework displays will be Friday night, July 25th and Saturday night July 26th at 10:00pm. Home Days hours are Friday 6-11pm., Saturday 3-11 pm., Sunday 12-9pm.
Promotional booth, exhibit space, vendor food booth space and sponsorship opportunities are now available to promote your product, your business, or your organization. Reach thousands during this three-day event.
Booth space is limited however. For more information or to receive an application, call Kathy Holland at 216-525-6227 or email kholland@sevenhillsohio.org. Applications may also be downloaded from the City's website at www.sevenhillsohio.org.
Read More on Seven Hills
Volume 6, Issue 6, Posted 10:33 PM, 06.03.2014