Parma Area Chamber Of Commerce 23rd Annual "Rib-N-Rock" June 6-9th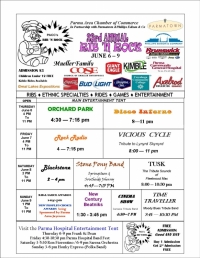 The Parma Area Chamber of Commerce, in partnership with Parmatown and Phillips Edison & Company (New Parmatown Owners), proudly presents our 23rd Annual Rib 'N Rock Cook Off on Thursday, June 6 through Sunday, June 9, 2013 at Parmatown in front of Wal-Mart.
Our returning Rib Vendors are Armadillo's, Butch's BBQ of New Jersey, Jack on the Bone, MOJO'S, Smokin T's, and Texas Pit will compete for Best Ribs and Best Sauce. Our other Food Vendors include Euclid Beach Custard, Jimbo's Concessions, Little Polish Diner, Mapleview Concessions, Parma Area Jaycees Roasted Corn, Sue's Pierogies, The Original Greek Gyros, D Kay's Belgian Waffles and Buckeye Concessions.
New this year is the Parma Area Jaycees People Choice Awards for Best Ribs, Best Sauce, Best Pulled Pork Sandwich and Best Fair Food. Stop by the Parma Area Jaycees Roasted Corn booth to place your vote.
We will also have many Exhibitors and offering a Large Amusement area provided by Great Lakes Exposition.
This Annual Rib 'N Rock can only be brought to you with the assistance of Countless Volunteers and our many sponsors. Major Sponsors are Parmatown Mall and Phillips Edison Company (New Owners of Parmatown), Brunswick Auto Mart, Parma Community General Hospital, Axelrod Buick/GMC, the Mueller Family (Suburban Press) , Kimble Company, Giant Eagle on Day Dr., Hampton Inn on Tiedeman, COSE, Coca Cola, Bud Light, Cuyahoga Community College and Great Lakes Exposition. Other sponsors include City of Parma, Mayor Timothy DeGeeter, City of Parma Recreation Department, Century 21 DePiero & Associates, Westview Acres Apartments, Rosemary Gulick, Parma City School Board and Parma Montessori Child Care.
Please join us at this family-fun, community event that is close to home. Admission is still only $3 per person (children under 12 are free "BOGO" coupons available through the Chamber, in Val Pak, Town Money Saver and at other locations. For information contact the Parma Area Chamber at 440-886-1700 or email chamber@parmaareachamber.org or by going to our website www.parmaareachamber.org
Main Entertainment Tent
Thursday, June 6 4-11pm
Orchard Park, 4:30-7:15 pm
Disco Inferno, 8-11 pm
Friday, June 7 4-11pm
Rock Radio, 4-7:15 pm
Vicious Cycle, 8-11 pm
Saturday, June 8 2-11pm
Blackstone, 2-4 pm
Stone Pony, 4:45-7:15 pm
Tusk, 8-10:30 pm
Sunday, June 9 1-11pm
Rib Awards, 1-1:30 pm including the New People's Choice Awards sponsored by the Parma Area Jaycees
New Century Beatniks, 1:30-3:45 pm
Cinema Show, 4:30-7 pm
Time Traveller, 7:45-10:30 pm
Parma Hospital Entertainment Tent (East Tent)
Thursday, June 6 4-11pm
Frank & Dean 6-9 pm
Friday, June 8 4-11pm
Parma Hospital Band Fest 4:30-10:30 pm
Saturday, June 9 2-11pm
Ron Fiorentino 3-5:30 pm
Sarena Orchestra 6-9 pm
Sunday, June 10 1-11pm
Honky Express (Polka Band), 3-6 pm
Please join us and the community in enjoying this fun filled weekend by attending and supporting this annual kick off to the summer season. It is sponsored by the Parma Area Chamber of Commerce with the proceeds supporting other events and organizations in the community. We look forward to seeing you at the 23rd Annual Rib N Rock 2013!
Dave Nedrich
President of the Parma Area Chamber of Commerce
Read More on Chamber of Commerce
Volume 5, Issue 6, Posted 7:06 AM, 06.05.2013