All Faiths Pantry Serves Local Seniors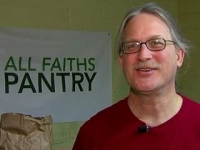 Parma native John Visnauskas, who has worked as a jeweler and as a supervisor at the Cleveland FoodBank, had an epiphany eleven years ago. John V, as he is known to acquaintances, observed that struggling families could pick up free food at one of the local food pantries that sprung up in the last several years. These pantries did, and continue to do, a fine job of serving our food insecure neighbors - as long as they are able get to a pantry and transport the food back home. "What do people with mobility challenges do?" John asked himself.
A program where volunteers deliver groceries to client's kitchens was the answer. All Faiths Pantry evolved from this concept.
I sat down with John to find out how the answer to this question, a mere eleven years ago, became the crucial community resource it is today.
Jeffrey Fowler: Tell me a little about your background?
John Visnauskas: I was born and raised in Parma and graduated from Kent State University in 1980. After graduation I moved to New Mexico, where I lived for 17 years. In 1999 I returned to the Cleveland area.
JF: Is that when you started All Faiths Pantry (AFP)?
JV: No. Shortly after returning I became involved in the Cleveland FoodBank, which does an excellent job of serving food insecure people in the greater Cleveland area. At first I was a volunteer then quickly was hired as an employee. Eventually I became inventory coordinator.
In 2001 I started a pilot program in Parma to test the model of delivering groceries to people with mobility challenges. By 2006 it had evolved into All Faiths Pantry. AFP is a member agency of Cleveland FoodBank, which sources the food we distribute. Cleveland Food Bank does not give food to individuals, but to agencies and programs that directly distribute food, such as AFP.
JF: There are several other food pantries in the area. What makes AFP different?
JV: We deliver food to people who are unable to leave their homes to go to traditional food pantries. Other pantries often refer to AFP the clients that they are unable to serve.
JF: So most food pantries don't deliver to mobility challenged people?
JV: That's right. That's why we're here.
JF: What is the vision of AFP?
JV: We would love to see diverse faith groups, civic organizations and individuals throughout America unite to deliver groceries to low-income seniors and those with mobility challenges, especially those people not being served by other emergency food programs.
JF: So you serve recipients over 60 years of age?
JV: Yes, but we also serve a significant number of people who are suffering from a temporary or permanent mobility challenge, such as multiple sclerosis or epilepsy.
JF: So, is All Faiths Pantry like Meals on Wheels?
JV: It is. We deliver 100% of our food. But it differs from Meals on Wheels in that there is no cost to recipients for food from AFP, and that we deliver grocery items, not prepared meals. We are a program for people who prefer to cook for themselves, or have caretakers who cook for them in their homes. We strive to help people maintain their independence.
JF: How often do you deliver groceries and to how many people?
JV: We deliver about 25 pounds of food once a month, currently to approximately 400 individuals in 300 homes. Most are single person households, but in these difficult times there may be a senior whose children and even their grandchildren have moved in with them. About 40% of our recipients are concentrated in HUD subsidized or CMHA buildings. Our service area includes Parma, Parma Heights, Brook Park, Brooklyn, and the Cleveland neighborhoods of Old Brooklyn and Brooklyn Centre.
JF: How do you distribute groceries?
JV: We have over 20 volunteer teams who deliver our food. Each team visits the same recipients every month, and genuine relationships are built. The fact that recipients are participating in a food program is eclipsed when they feel that their food is brought by friends. Our volunteers are also gratified by this work. To paraphrase Saint Angela Merici, founder of the Ursuline Order, we have a greater need to serve others than they have of our service. We deliver love disguised as food.

JF: Where do you get volunteers?
JV: We get volunteers through word of mouth. There are schools that have sent us volunteers. Many of our volunteers come from local religious congregations. This is fundamental to our model and the reason for our name. People from different faiths may not always agree on religious doctrine, but all agree that an elderly woman should get a bag of beans. Diversity is important to us. We also get volunteers from organizations like Business Volunteers Unlimited and Hands On.
JF: Where does all this food come from?
JV: Cleveland FoodBank supplies both non-perishables and perishables from the USDA, from manufacturers who donate items, from Ohio Farmers through the Ohio Food Purchase Program and from the annual Harvest for Hunger Campaign.
JF: How is AFP funded?
JV: We hold fundraisers a few times per year. Our annual Reggae for Food benefit in October is always a big success. Our next fundraiser is tentatively planned for April at a tavern on East 4th Street in downtown Cleveland.
We receive a lot of small individual donations as well. In December Parma Council President Sean Brennan hosted the Parma Peanut Butter Drive for the benefit of AFP. Over 1,600 jars of peanut butter and more than $1,000 were donated.
In addition, we are a 501(c)(3) corporation, so we write grants. We have received generous grants from Episcopal Community Services, Parma Hospital Health Care Foundation, the McGregor Foundation, the Cleveland Foundation and others.
JF: Earlier you called AFP a model. Can others use your program as a model in their communities?
JV: AFP is a sustainable idea. We hope people will adopt our model and adapt it to their local needs. We are happy to consult free of charge and will help people establish a program or add a delivery service to an existing emergency food program.
JF: Do you expect the need for AFP to grow in the future?
JV: Yes. Today we serve many members of the Greatest Generation, those who grew up during the depression, fought in World War II, and made America an economic power after the war. Many retired in the 1980s with a fixed income of $800-$900 per month, thinking this would support them for the rest of their lives. Now they find themselves deciding between medication, utilities, and food.
The baby boomers are starting to retire - a phenomenon sometimes called the Silver Tsunami. The sheer number of boomers will create a far worse situation. Many in my generation did not set aside enough funds for retirement, and Social Security has its problems. The need will continue to grow.
JF: Thanks for your time John.
JV: A pleasure. Thanks for telling our story.
All Faiths Pantry can be found on Facebook and at allfaithspantry.org. Call AFP at (216) 496-4329 with specific questions on volunteering, donating, or referring new recipients.

Jeffrey Fowler
Board Member, All Faiths Pantry.
Read More on News
Volume 4, Issue 2, Posted 9:30 PM, 03.01.2012