Parma Area Chamber Of Commerce Hosts "MEGA Mixer"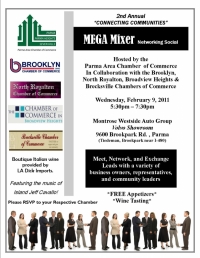 Business networking shifts into high gear with the second Annual MEGA Mixer presented by the Parma Area Chamber of Commerce in collaboration with the Brooklyn, North Royalton, Broadview Heights and Brecksville Chambers of Commerce. This unique event will bring together businesses representing many industries and companies throughout the area and provide members direct access to potential partnerships while expanding their personal network.
The goal of the Mega Mixer is to encourage membership in one or several chambers of commerce, allowing businesses to grow based on a wider network of support. The key to growing any business is building strong, solid relationships with others through active networking and product promotion. Scheduled for Wednesday, February 9, 2011 from 5:30 p.m. to 7:30 p.m., the event will be hosted by Montrose Auto Group and Westside Jaguar-Land Rover at 9600 Brookpark Rd. in Parma. Boutique Italian wine will be provided by LA Dick Imports and will be featuring the music of Island Jeff Cavallo!.
This mixer truly is a one-of-its-kind networking event and provides a great opportunity for business people from other areas to network with each other. Last year we had over 300 people in attendance representing over 15 area Chambers of Commerce. Businesses do not have to be affiliated with a chamber to attend the Mixer.To register or for more information contact the Parma Area Chamber of Commerce at 440-886-1700
Read More on Chamber of Commerce
Volume 3, Issue 2, Posted 12:59 PM, 02.02.2011