Parma Area Chamber Of Commerce Presents 20th. Annual Rib'N Rock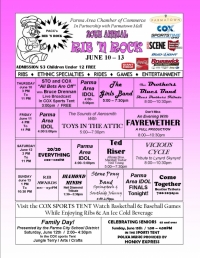 Parma Area Chamber of Commerce 20th Annual Rib 'N Rock
The Parma Area Chamber of Commerce, in partnership with Parmatown Mall, Presents the 20th Annual Rib 'N Rock Thursday, June 10th through Sunday, June 13th.
The PACC is pleased to announce Cox and STO will bring "All Bets Are Off" with Bruce Drennan - LIVE TV Broadcast, 3:00pm-6:00pm on Thursday June 11th with FREE entry during that time. Join fans in the COX Sports Tent and watch NBA Play-off games or catch the score of the Tribe while enjoying some ribs and an ice-cold beverage.
On the Main Stage they have an outstanding line-up including the Second Annual "Parma Area Idol" contest. Watch as contestants compete in front of panel of professional judges to become the "Parma Area Idol" and a chance to win $200 along with studio time to record a demo CD at Advanced Audio Design Studio. Returning to the stage again this year is long time local favorite Fayrewether, The Girls Band, Vicious Cycle (Lynyrd Skynyrd tribute), and Come Together (Beatles tribute). Also on hand to entertain will be another local favorite Ted Riser. Several "tribute bands" will be appearing including Toys in the Attic (Aerosmith), The Brothers Blues band featuring Fox8 news' very own Todd Meany will perform Blues Brothers / Cab Calloway as will Stone Pony (Springsteen / Southside Johnny), and Diamond Mines (Neil Diamond).
The event will also be offering a larger amusement ride area, and for the older adults, On Sunday, June 13th from 1:30 – 4:30, is Senior Citizen Day featuring the Honky Express Polka Band in the COX Sports tent.
Be sure to sample the ribs and other specialty food items. See if your favorite rib vendor wins the competition for Best Ribs or Best Sauce.
This Annual Rib 'N Rock can only be brought to you with the assistance of countless volunteers and our many Sponsors – Parmatown Mall, COX, STO, Brunswick Auto Mart, Parmatown Spinal & Rehab, Mueller Family, SCENE Magazine, Coke, Giant Eagle, Bud Light
We have something for everyone and hope you will join us at this family-fun, community event that is close to home. Admission is still only $3 (children under 12 are free) FREE passes and "BOGO" coupons available through the Chamber. For information and tickets contact the Parma Area Chamber of Commerce 440-886-1700 or chamber@parmaareachamber.org
Read More on Chamber of Commerce
Volume 2, Issue 5, Posted 9:19 AM, 05.27.2010